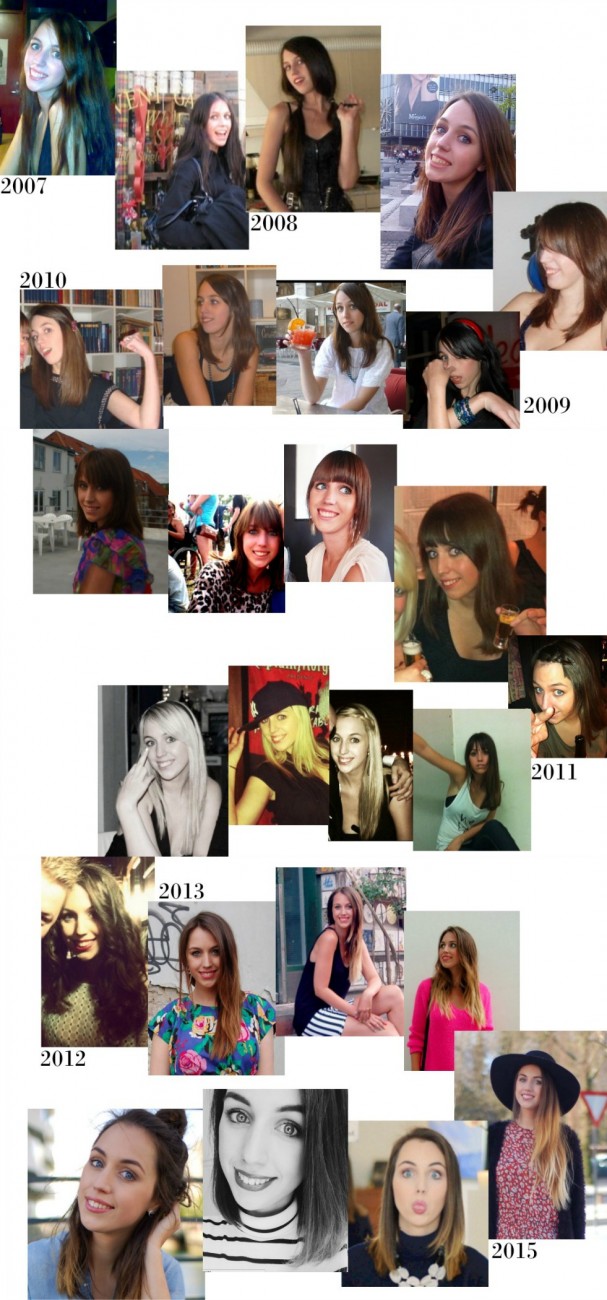 THE SECRET STORY OF MY HAIR
I søndags foreslog Laura i en kommentar, at jeg skulle få pandehår, fordi det på dette billede så ud til at klæde mig. Til det kunne jeg svare, at jeg skam havde været der, og at det er meget usandsynligt, jeg nogensinde går tilbage, selvom det egentlig klædte mig fint nok. Hvorfor så det? Jo, jeg har en noget broget hår-historie, der udspringer af, at jeg ikke gider gøre ret meget ud af mit hår, men alligevel meget let kommer til at kede mig, hvis jeg har den samme frisure alt for længe af gangen. I de sidste par år er jeg blevet bedre til at lade være med at forlade huset med en katastrofe på toppen, men en gennemgang af mine gamle facebookbilleder gjorde det knasende klart, at der var en (rum) tid, hvor jeg lignede noget, der var løgn.
When I posted this picture, one of you suggested I get bangs as it appeared to suit me in that particular picture. But boy, have I been there. And no, I won't go back. Ever.
Why is that? My hair history is somewhat of a grim tale because on the one hand I'm not one for spending a lot of time on my hair, but on the other hand I get bored very easily if I have the same hairstyle for a long period of time. The last few years haven't been so bad and I no longer regularly leave the house looking like a muppet, but when I scrolled through my old facebook photos it was clear that I have spent many years looking kinda ridiculous.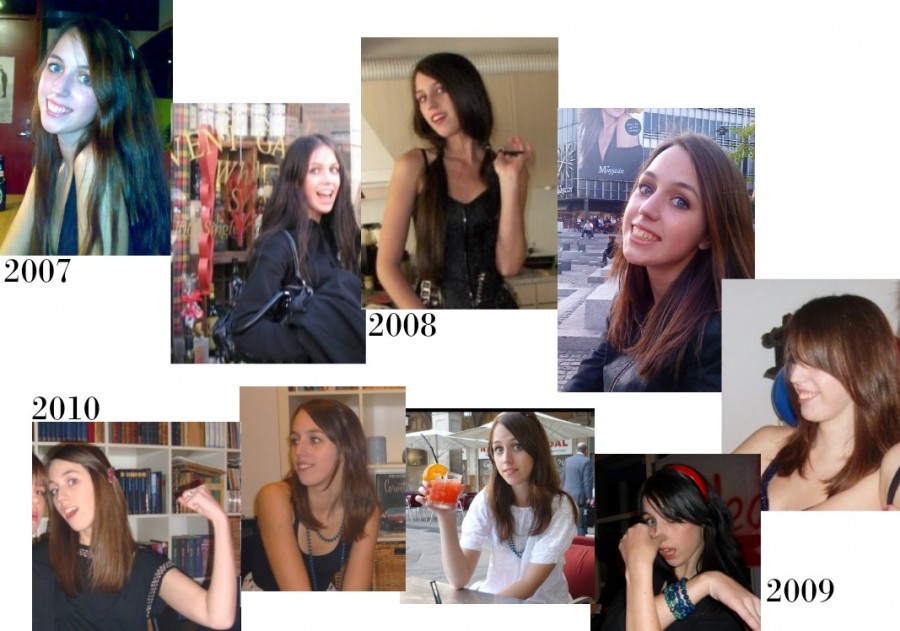 Eventyret begynder i 2007, hvor jeg oprettede min Facebookkonto. Det er at betragte som en slags år 0 for den digitale tidsalder. Dengang var jeg ikke blevet klippet i omtrent 3 år, og jeg redte kun hår om søndagen.
I 2008 farvede jeg hele moletjavsen (høhø) sort, og i foråret begyndte jeg endda at rede det nogenlunde regelmæssigt – og variere det løse hår med én frisure i form af et sæt lave rottehaler. I foråret blev jeg endelig klippet – jeg tror faktisk, det er den klipning, jeg nogensinde har været gladest for. Jeg endte med at se helt tilforladelig ud med midihår i min naturlige farve.
Men det varede ikke længe, for da jeg i efteråret boede i Odense, skulle jeg liiiige se, hvordan sådan et "rundt" pandehår ville se ud til mig. Det skulle jeg ikke have gjort.
I 2009 farvede jeg det sort igen, fordi jeg tydeligvis ikke lærer af mine fejltagelser, men mit hår holdt heldigvis ikke på den ellers permanente farve, så i maj måned kunne jeg sidde med en drink og se nogenlunde normal ud.

The story begins in 2007 when I created my facebook account. That's like the beginning of time, right? In 2007 I hadn't had my hair cut in three years and I only brushed it once a week.
In 2008 I coloured the whole thing black and in the spring I even began combing through it somewhat regularly. Sometimes I even "styled" it in two low ponytails. Yeah.
In the spring I finally had my long long hair cut, and I really liked it. But after 6 months I got bored and wanted to try out bangs. I shouldn't have done that.
In 2009 I coloured it black – again. I clearly am not a person who learns from her past mistakes, but fortunately my hair rejected the permanent dye, and in May I went to Barcelona and had a drink with relatively normal-looking hair.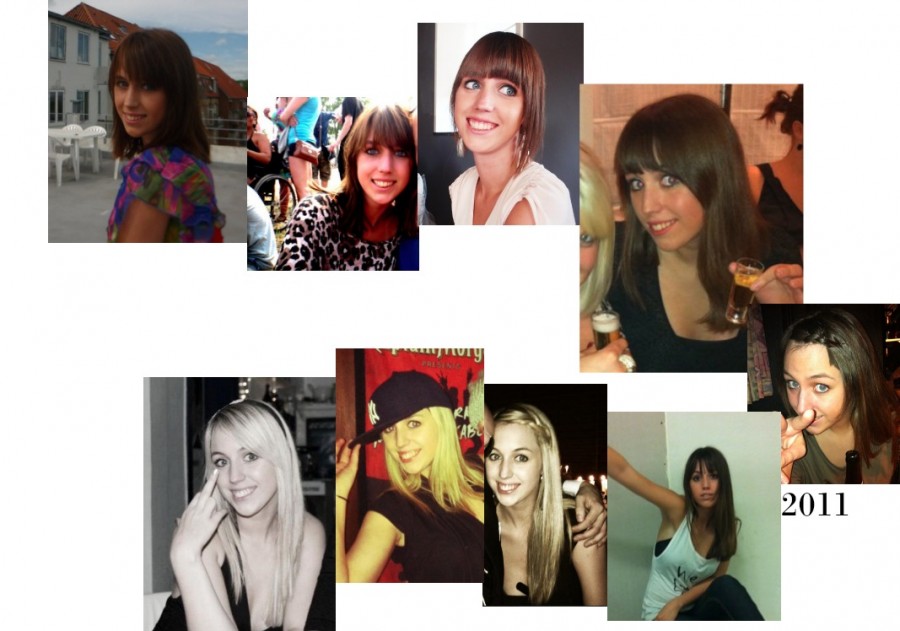 I 2010 var pandehåret endelig groet ud igen, men jeg kedede mig, så jeg fik det klippet igen. Denne gang i en mere klædelig lige udgave. Jeg var dog utrolig doven, så jeg fik aldrig rigtig skubbet mig selv af sted til frisøren. Det resulterede i et ret skævt selvklippet pandehår. Men det skulle da ikke slå mig ud, nej. Jeg beholdt det – dog ofte sat op i en lille, sørgelig fletning.
I 2011 fik jeg det rettet til (pyha), og så havde jeg igen en nogenlunde god periode. Indtil jeg tabte et væddemål, jeg utroligt frivilligt havde indgået om et eller andet helt ligegyldigt, og derfor for første gang nogensinde blev blond. Først var det lidt stribet, så lidt gult.
Og i begyndelsen af 2012 blev det så nogenlunde platinblond, men da frisøren havde bibeholdt en udgroning, jeg ville have haft dækket, gav jeg til sidst op og gik tilbage til det brune. Det krævede en uge med rødt hår, som jeg lykkeligvis ikke har billeder fra, men så var det også tilbage.

I 2010 my bangs were finally gone, but I was bored and had them cut again. I was extremely lazy so I always ended up "forgetting" to get them cut – one time I even cut them myself. It did not turn out great. Or straight for that matter. But I kept it – sometimes in a sad little braid.
In 2011 I surrendered myself to a proper hairdresser, and thus followed a reasonably good period. Until I lost a bet and went blonde. I did NOT have more fun, but it cost me a small fortune and it turned out yellowy.
In the beginning of 2012 I finally achieved the ashy blonde look I wanted, but my stupid hairdresser decided not to colour my roots and that's when I gave up and decided to go back to brown. It took one week with reddish hair (thankfully no one thought to take pictures!), but then the blonde was gone for good.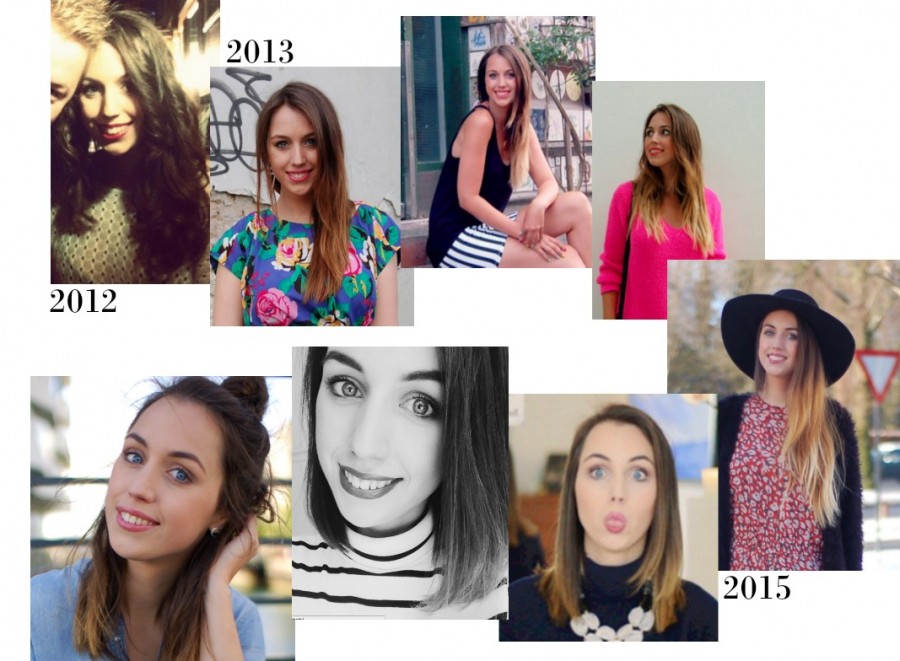 I sommeren 2013, umiddelbart før jeg startede bloggen, dyppede jeg mit hår i blegemiddel og var helt oppe at køre over mit nye ombre-hår.
I slutningen af 2014 var mit hår blevet meget længere, så jeg besluttede mig for at genopfriske det, og jeg var faktisk ret vild med resultatet.
Desværre havde jeg tabt så meget hår i efteråret, at det i januar 2015 var begyndt at blive lidt for trist med så langt, halvtyndt hår, så helt spontant fik jeg det klippet i London. Det var EN KATASTROFE(!!!!), så en uge efter fik jeg en lille pariserpage i stedet – udelukkende for at redde situationen bedst muligt. Jeg havde absolut ikke drømt om den page. Nu har jeg det midihår, jeg oprindeligt gik efter, men nu keder jeg mig igen. Jeg har dog to regler, jeg har lovet mig selv at følge: Aldrig mere blond, aldrig mere pandehår.
Jeg savner min ombre og mit lange hår, men det er bare så dødssygt at vente på, at håret gror, så jeg overvejer noget med en lidt mere skarp klipning, mens jeg venter. Hvad siger I? Nu har I set min allerhemmeligste hårhistorie, så I kan nok forstå, jeg ikke er meget for flere eksperimenter :)
Se også mit indlæg om 3 fine frisurer til til skulderlangt (og længere) hår og min tutorial på en fin fletning med et twist :)

In the summer of 2013 I decided to bleach the crap out of my ends, and I loved my new ombre hair.
In December of 2014 my hair was so long that I wanted to refresh the ombre, and I actually really loved the results.
Unfortunately I had lost quite a bit of hair that fall so in January 2015 I had to cut it because it looked a wee bit sad. I had it cut on holiday in London, and it was a full-blown CATASTROPHE so a week later I had my own hairdresser fix it. And then I ended up with a long bob. It wasn't my original plan, but I really had no choice.
Now I have the midi haircut I wanted, but I have to admit I'm a little bored with it. But! I promised myself two thing: Never blonde, never bangs! 
I miss my long, ombre hair, but it's just so incredibly boring waiting for hair to grow so maybe I'll be making some changes soon. What do you think? Now you know my secret hair story and I think you can understand why I'm done with experimenting! :D
---
PS. Husker du at følge med på
Instagram
? Du kan også følge bloggen via
Bloglovin
eller på bloggens
Facebookside
, som jeg opdaterer dagligt! Du kan også skrive en kommentar til dette indlæg – jeg svarer ALTID tilbage! :)