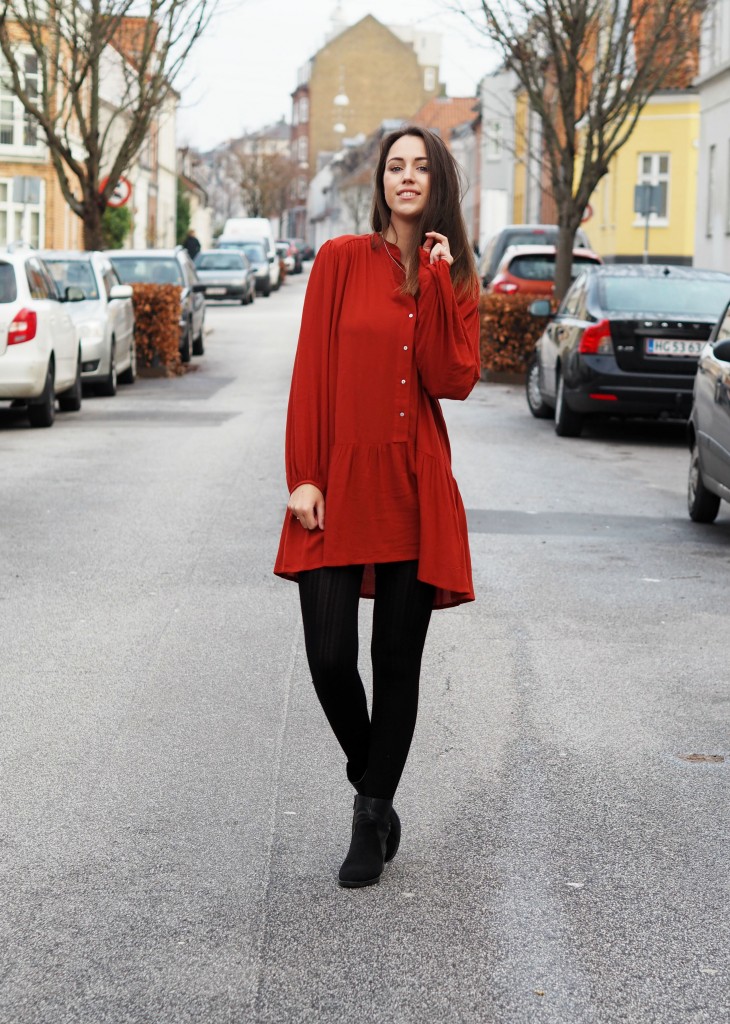 DRESS: H&M / BOOTS: GEOX / NECKLACE + EARRINGS: PILGRIM
Puha, hvor rykker nytåret dog tæt på! Internettet flyder med forsætter og statusser over året, der er gået, alt imens jeg render rundt herhjemme og prøver at få styr på den ommøblering, vi har brugt juledagene på, inden vi får nytårsgæster. Jeg har endnu ingen nytårspynt, og hvad værre er har jeg ingen nytårskjole. Måske finder jeg noget frem fra en kasse et sted, for selvom jeg gerne vil være fin, vil jeg altså hellere bruge budgettet på noget, jeg kan bruge mere end én gang. Vores nytårsaften bliver heldigvis helt afslappet. Vi bliver 3 husstande (min bedste venindes nye ord for "par", fordi "parmiddag" er et lidt ærgerligt koncept) – dvs. 6 personer i alt, og vi har besluttet os for at droppe alt om forret-hovedret-dessert og i stedet tage en bunke tapas med hver, så vi kan sidde om bordet og hygge i stedet for at stå i køkkenet og kokkerere og vaske op det halve af aftenen. Så står den på brætspil og drinks, og når rådhusuret engang ringer det nye år ind, forsøger vi at huske kransekagen. Den glemte vi alt om sidste år.
Dagens billeder er taget juleaftensdag, hvor jeg var hoppet i noget så atypisk for mig som en rød kjole. Jeg kan ikke fordrage farven rød. Jeg synes, den er alt for voldsom, og jeg forbinder den af uransagelige årsager med store temperamenter og en masse larm, så derfor trækker jeg kun sjældent i den. Jeg kunne dog ikke stå for denne fine løse kjole, da jeg stødte på den den 23., og I kan tro, at det var et godt valg med alt den julemad, jeg satte til livs. Blæsten gjorde den noget nær umulig at tage gode billeder af, men Camilla gjorde en ihærdig indsats i den korte tid vi havde sammen, inden min far og jeg drønede mod Viborg.
Jeg glæder mig til at sætte kjolen sammen med et par bukser og prøve at bruge den i hverdagssammenhænge. I virkeligheden er den ikke helt så rød, som den er på billederne, men jeg er ikke sikker på, den farve duer til andet end jul. Vi er absolut ikke gode venner.
Er der også nogle farver, I bare ikke bryder jer om?

Whew, New Year's Eve is just around the corner! The internet is overflowing with resolutions and flashbacks of 2015, all the while I'm running around at home trying to get a handle on our re-decorating project before our guests arrive in a couple of days.
Fortunately, our New Year's Eve is quite relaxed. 3 couples, drinks, tapas and board games! No muss, no fuss. The pictures are taken on the day of Christmas Eve where I wore my new, red dress. I actually can't stand the colour red, but when I saw this dress I just knew I wanted to spend Christmas in it. It's so loose that you could eat forever and not fill it out. That's a great dress for Christmas!
---
PS. Husker du at følge med på
Instagram
? Du kan også følge bloggen via
Bloglovin
eller på bloggens
Facebookside
, som jeg opdaterer dagligt! Du kan også skrive en kommentar til dette indlæg – jeg svarer ALTID tilbage! :)