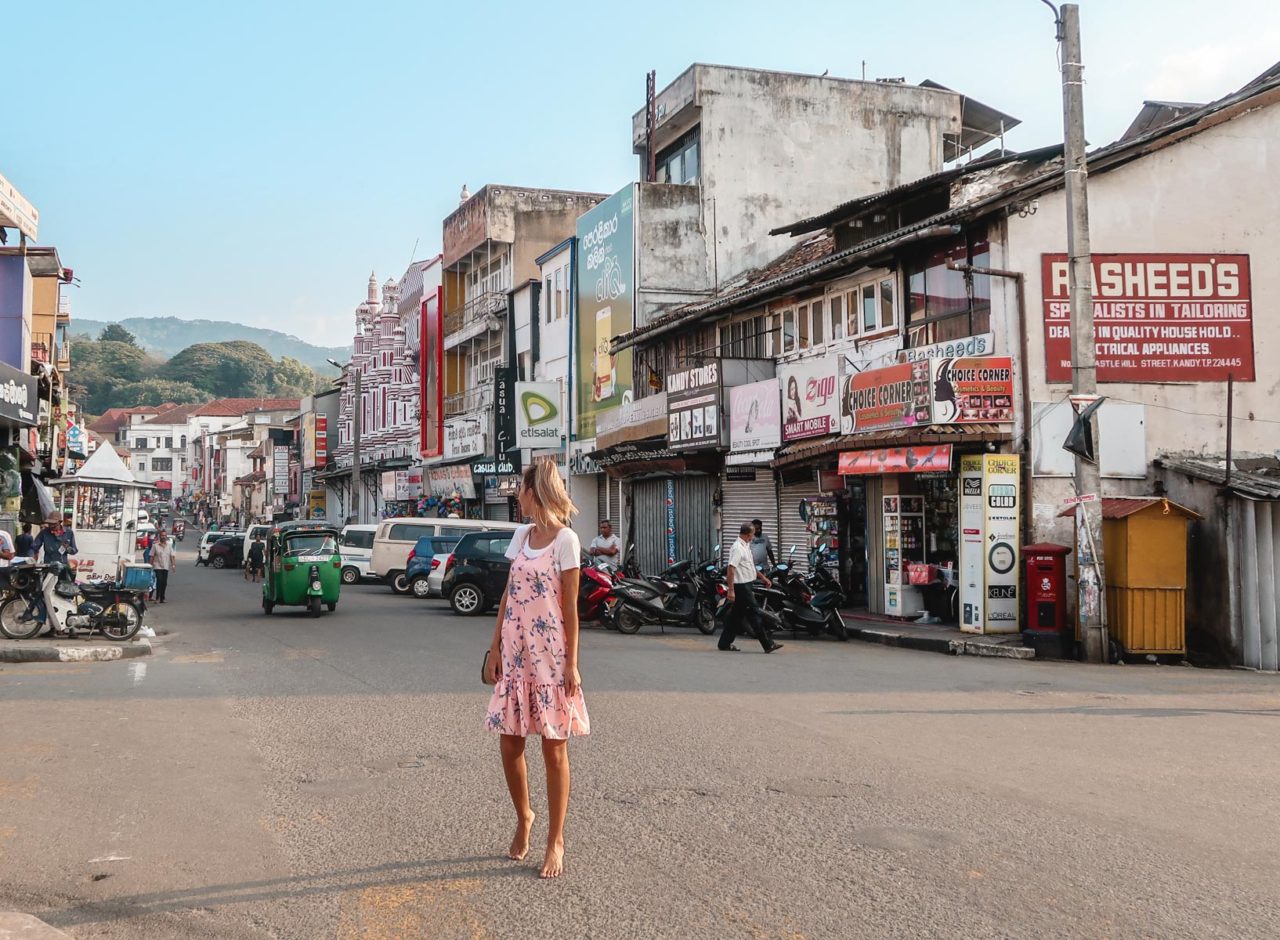 Kandy i Sri Lanka er en by, man ofte kommer forbi på vej til Ella og Nuwara Eliya. Det er Sri Lankas næststørste by, og den er helt ulig noget som helst andet, vi nogensinde har oplevet. Det er en stor by med landsbyvibes og en luftkvalitet, der til tider er helt håbløs. Der er fantastisk indisk mad, shopping og nogle flotte udsigtspunkter, men Kandy er mest af alt kendt for det store Temple of the Tooth, Kandyan Dancing og den botaniske have, der ligger et stykke uden for byen.
Fordi Kandy ligger på turistruten (Colombo -> Kandy -> Nuwara Eliya -> Ella -> Mirissa -> Colombo), men ikke byder på specielt prangende naturoplevelser, tager de kendte turistattraktioner sig særdeles godt betalt. De ved, at man vil opleve et eller andet, mens man er der, og så er der sådan set kun tre åbenlyse valg.
På Sri Lanka havde vi et fælles budget på 100 kroner til overnatning og 100 kroner til alt andet – det er for det meste det budget, vi arbejder med, og fordi hver af de tre attraktioner koster fra 40 kroner og opefter, ville vi skulle kaste hele vores dagsbudget efter en enkelt af dem, og der var i bund og grund ingen af dem, vi virkelig drømte om at se. Det var mere bare sådan nogle ting, vi følte, vi burde sætte kryds ved. Så vi lod være, og i stedet besluttede vi os for at gå på jagt efter alternative oplevelser i Kandy.
Vi havde absolut ingen hjælp fra det store internet, hvor alle guides nævner de samme tre ting, så vi endte med at blive ret overraskede over, hvor mange fine små oplevelser, byen gemte på.
Husk, at I kan abonnere på vores Youtubekanal lige her :)
---
PS. Husker du at følge med på
Instagram
? Du kan også følge bloggen via
Bloglovin
eller på bloggens
Facebookside
, som jeg opdaterer dagligt! Du kan også skrive en kommentar til dette indlæg – jeg svarer ALTID tilbage! :)