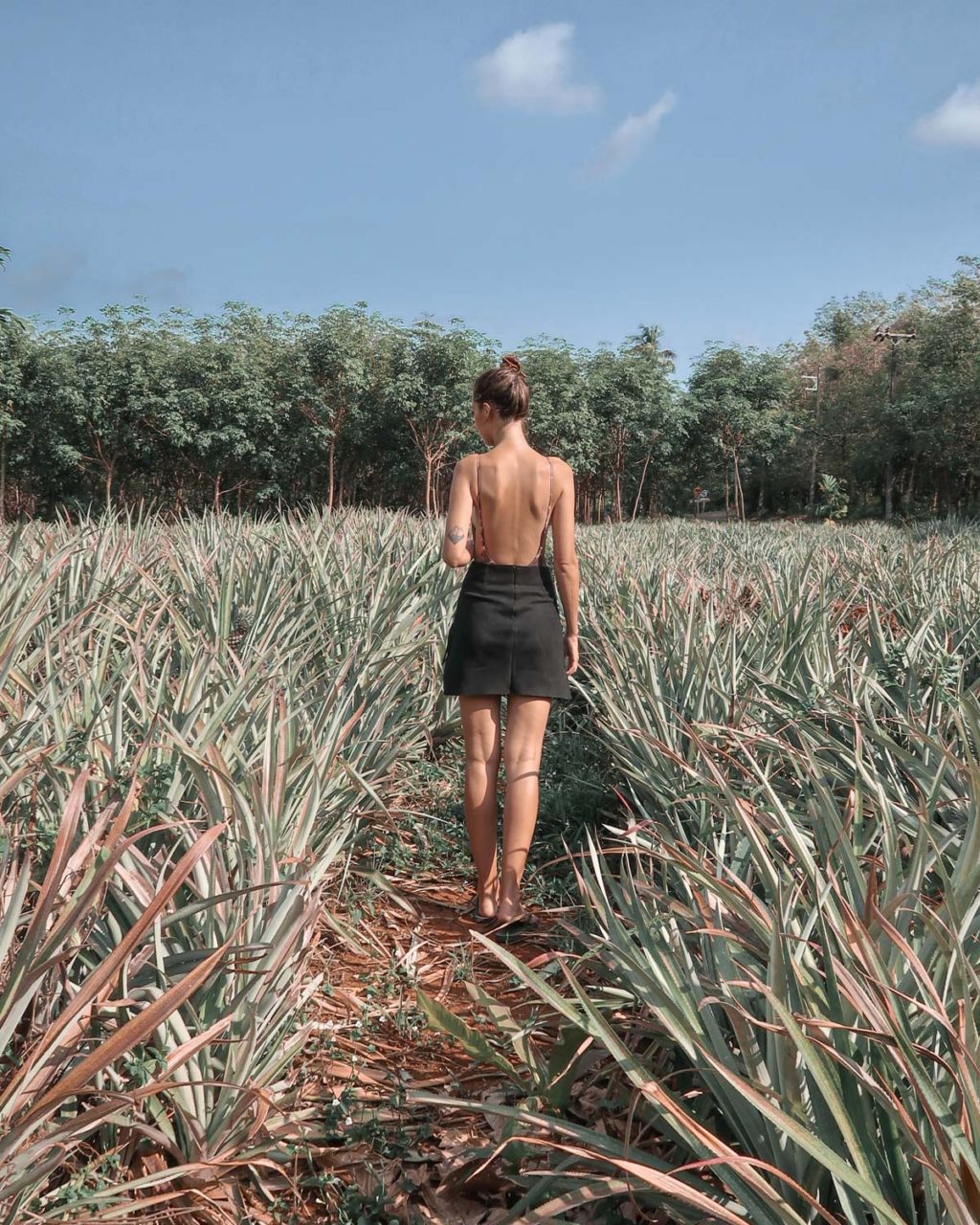 Hvis I har læst indlægget om min nyeste hårkatastrofe, har I måske allerede været forbi den sidste rigtige Koh Mak-video i denne omgang. I morgen skal jeg i gang med at redigere den sidste rejsevlog nede fra øerne, og så er vi igen tilbage i real time inde på Youtube, så jeg forhåbentlig kan nå at få filmet et par Chiang Mai-videoer til jer, før vi drager videre. Hvis der er noget særligt, I gerne vil se herfra, må I bare sige til – så prøver jeg at lave de videoer, I helst vil se :)
Koh Mak var virkelig dejlig. Det er en ø, der i høj grad lægger op til afslapning og solnedgangsdrinks, og det forsøgte vi så at efterleve efter bedste evne. Vi kom blandt andet forbi øens bedste strand og en ananasmark, som jeg personligt var lidt oppe at køre over. Jeg siger jer, jeg havde lyst til at snuppe en! Hvis jeg nogensinde kommer forbi en pluk-selv ananasmark, så  lægger jeg sgu hele opsparingen. Her i Chiang Mai er det knapt så eksotisk. Vi har stort set altid ananas i lejligheden, men det betyder, at vi en eller to gange om ugen må slæbe 8-9 af dem med hjem på vores cykler sammen med en masse andet frugt. Det er vildt lækkert, men der er bare noget fantastisk ved at hente det direkte i naturen.
Da vi i søndags havde vores gode lokale veninde med på markedet, fortalte hun os om, hvor de forskellige ting kom fra. Jordbær dyrker de oppe i bjergene (vi fik de mest fantastiske jordbær, da vi for et par uger siden besøgte den lille bjergby Doi Pui. Jeg troede, danske jordbær var the shizzle, men de her var sindssygt gode!), appelsinerne kommer mestendels oppe nordfra – og så kan jeg ikke huske mere, for så viste hun os, hvor vi kunne købe sugarcane juice. Nu har vi ledt efter det i 5 måneder, og det var vitterligt lige der, hvor vi har ledt. I stedet for at ærgre os købte vi stort ind, og hvis vi har tid i morgen, går vi igen på jagt efter sukkerrørsmanden. Min mor og hendes mand kommer nemlig på søndag, og så skal vi ellers bruge 10 dage på at (gen)opleve alle Chiang Mai's Greatest Hits, før vi pakker vores kufferter og vender næserne mod Sri Lanka. Februar bliver så dejlig.
---
PS. Husker du at følge med på
Instagram
? Du kan også følge bloggen via
Bloglovin
eller på bloggens
Facebookside
, som jeg opdaterer dagligt! Du kan også skrive en kommentar til dette indlæg – jeg svarer ALTID tilbage! :)