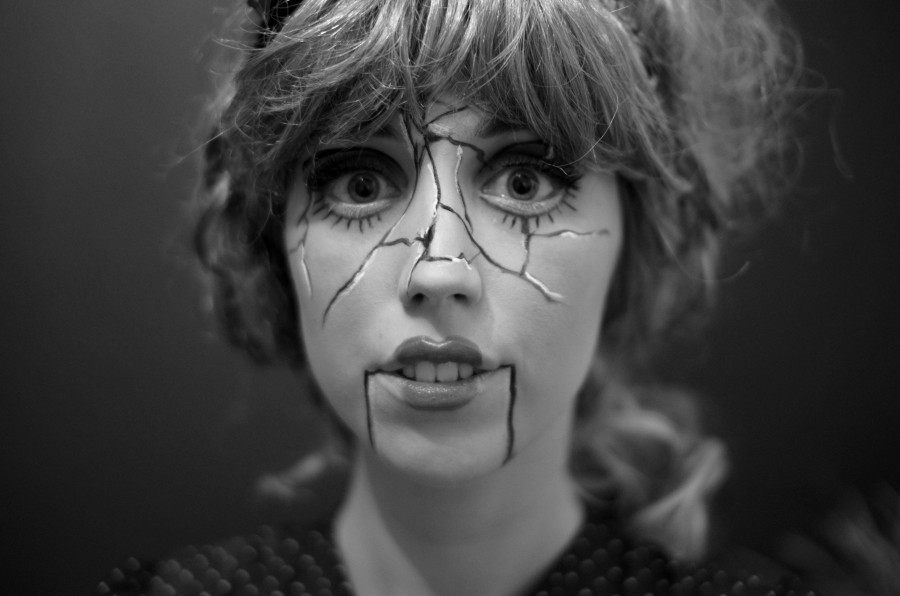 I går var det Halloween, og som I måske ved, er jeg ret vild med alle anledninger til at klæde mig ud, Jeg elskede Cadys overdrevne udklædning i Mean Girls, måske fordi jeg synes, det er enten eller. Enten klæder man sig ud, eller også lader man sgu være. Man tager ikke en maske på og ankommer i det mest sexede antræk, man ejer. I hvert fald ikke i min verden. Så i går troppede jeg op som en gammeldags, smadret bugtalerdukke til en fest, hvor et tylskørt var det vildeste, en af de andre piger havde kastet sig ud i.
Needless to say, at jeg vandt bedste udklædning og følte mig ekstremt over-dressed. Dette billede skildrer øjeblikket meget præcist. Men altså – det er da sjovest, hvis man ikke er bange for at være lidt grim, ikke? Jeg smed dog parykken efter et par timer, fordi den kradsede og lugtede af kælder, men makeuppen og den gulvlange 1800-tals kjole blev på, og det har garanteret set en smule komisk ud, da jeg stod på en stol og skrålede alle Popstardeltagers mareridt: Angels af Robbie Williams. I dag har jeg haft lidt ondt i hovedet, men jeg var dog relativt fornuftig at gå hjem på toppen, og nu skal der vist gå en rum tid, før jeg igen kaster mig over nogen form for udklædning!
Hvilke typer er I? Går I all in eller er et par museører nok?
Ps. Har I læst historien om mit hår? Der er klare beviser på, hvorfor jeg aldrig skal have pandehår!

Yesterday was Halloween and seeing as I love love loved Cady's costume in Mean Girls, I knew I wanted to go all in and not give a damn about my looks. I decided to do a shattered ventriloquist doll makeup look – and boy was I overdressed. When I walked through the door I saw that all the other girls had gone for "sexy" with black lace dresses and maybe a pair of animal ears. Needless to say I won the price for best costume and even though I looked sort of ridiculous compared to the others, it was worth it. I'm a very "either/or" type of person so when I go out I go all out. And I had fun with it, I have to say. However, I think it's going to be a while before I doll up in any costume again. 
What kind of person are you? Do you go all out or do you prefer a pair of mouse ears?
---
PS. Husker du at følge med på
Instagram
? Du kan også følge bloggen via
Bloglovin
eller på bloggens
Facebookside
, som jeg opdaterer dagligt! Du kan også skrive en kommentar til dette indlæg – jeg svarer ALTID tilbage! :)