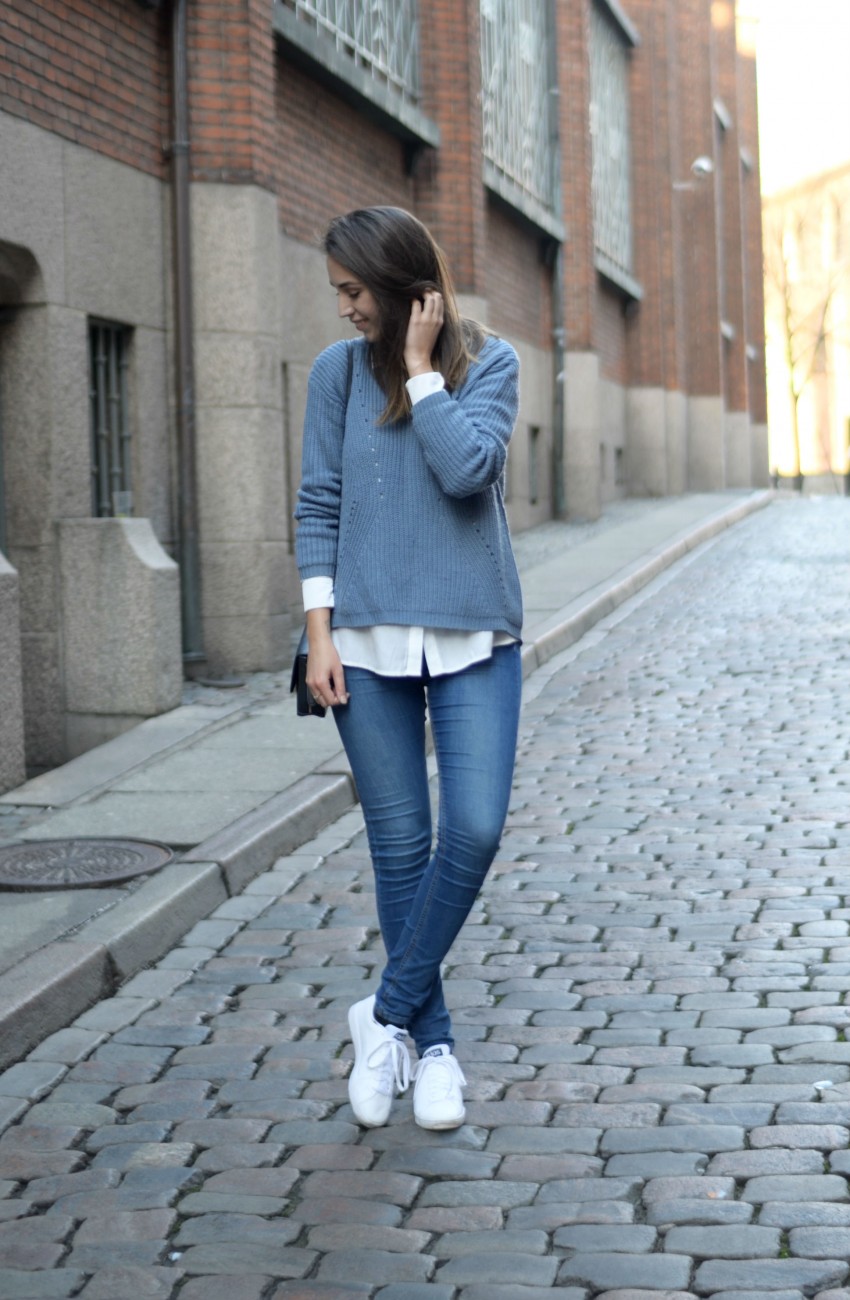 TOPSHOP JEANS (HERE) / FOREVER21 JUMPER (SIMILAR) + BAG (SIMILAR) / GINATRICOT SHIRT (SIMILAR) / ADIDAS SNEAKERS (SIMILAR)
Det har været en underlig weekend. Jeg har fejret to fødselarer, spist børnefødselsdagshotdogs og kagemand med nutellaglasur, været på Teaterbodegaen for at synge (og spise) min far godt ind i det nioghalvtredsindstyvende år og gået 12.800 skridt i Botanisk have med min bedste veninde. Alle de gode ting. Og så har de sidste dage alligevel været noget så tunge. Jeg kan ikke lade være med at spørge mig selv, hvad det er for en tid, vi går i møde. Vi venter efterhånden snart bare på det næste angreb. Vi bliver bange for hinanden, bange for at være til, bange for at flyve og bange for at sidde ved vinduesbordene og spise vores frokost. Vi forestiller os, hvordan vi ville have ageret, hvis det var os, der havde været fanget i skudsalverne – eller hvad hvis det var os, der havde mistet vores kære? Vi føler os magteløse.
Vi maler vores profiler i de franske farver, vi tænder lys, og vi beder for Paris. Vi føler sorgen sammen. Vi samles, og selvom vi aldrig nogensinde kan gøre fredagen god igen, viser vi gennem de små gestusser hinanden den kærlighed og den tillid, der gør, at vi nok skal stå igennem også denne periode i historien og med tiden forvise terroren og den religiøse ekstremisme til et par sider i en skolebog. En dag er vi omme på den anden side, men indtil da har vi hver især et ansvar for at få mest muligt ud af vores liv. I kærlighed og i trods.
It has been a strange weekend. I've celebrated two birthday boys, eaten hot dogs and cake with Nutella frosting and walked 12.800 in the Botanical Gardens with my best friend. All the good things. And still, the past few days have been heavy. I can't help but ask myself what we're in for. We're almost just waiting for the next attack. We become afraid of each other, afraid of living, afraid of flying and afraid of eating our lunch by the window. We can't help thinking what we would have done if we had been the ones caught in the gunfire – or if we were the ones to lose our loved ones. We feel powerless.
We paint our profile pictures in the colours of liberté, égalité, fraternité, we light candles and we pray for Paris. We grieve together. We can never undo what happened in Paris, but through all of our small gestures we show each other and the world we live in the love and the trust that will carry us through this dark period in time and banish terror and religious extremism to a few pages in the history books. One day we will be on the other side of this looking back, but until then, we must defy the darkness by living our lives to the fullest.
---
THIS POST CONTAINS AFFILIATE LINKS
---
PS. Husker du at følge med på
Instagram
? Du kan også følge bloggen via
Bloglovin
eller på bloggens
Facebookside
, som jeg opdaterer dagligt! Du kan også skrive en kommentar til dette indlæg – jeg svarer ALTID tilbage! :)