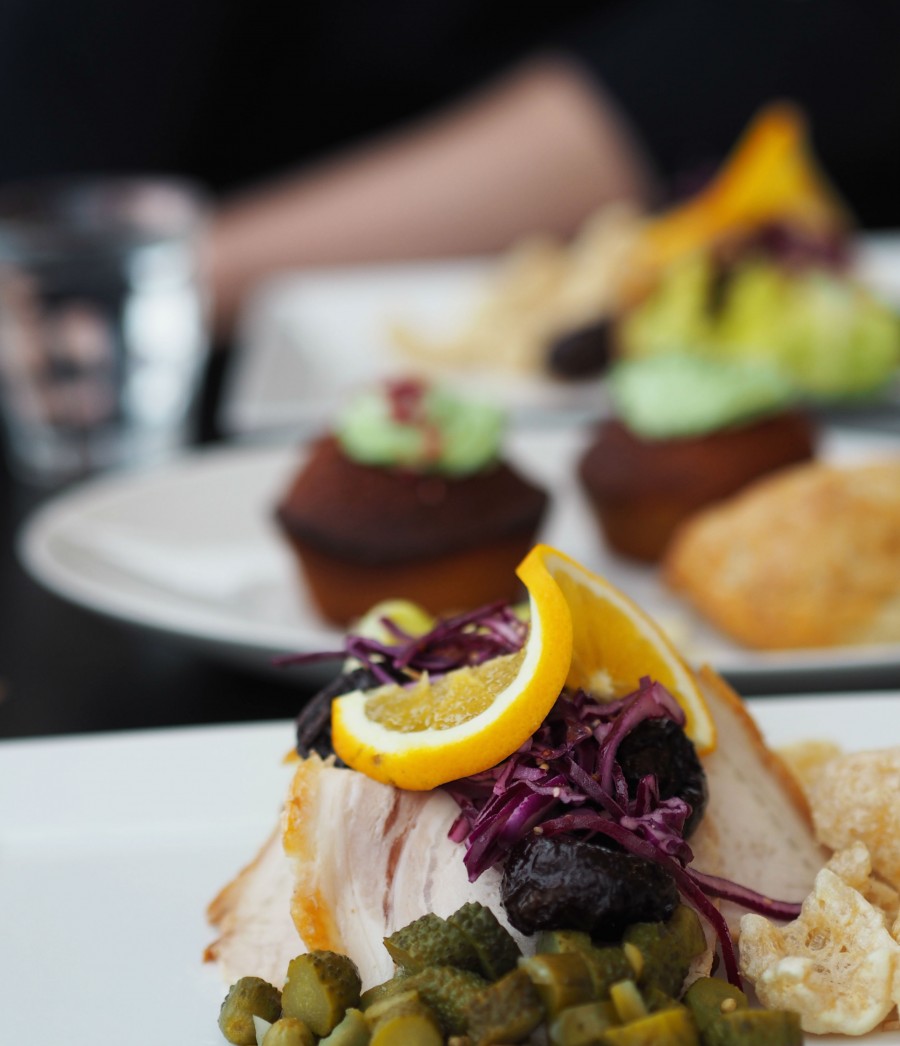 God eftermiddag, piger! Long time, no see.
Jeg håber, I har haft en dejlig weekend!
Jeg valgte at holde helt fri fra bloggen i de par dage, jeg var i København, men til gengæld kommer der snart en lille video fra turen. I formiddag blev Mathias og jeg jaget ud af vores egen lejlighed, da vores mødre i fællesskab havde besluttet sig for at rengøre og organisere vores køkken. De gik helt amok og tog badeværelset med, mens de sendte os ud til frokost i snestormen. Vejret var helt tosset, da vi skulle af sted, så vi prøvede at finde et sted tæt på, da min mor foreslog Folkestedets Café i Carl Blochs Gade.
Good afternoon, girls! Long time, no see. I hope you've had a wonderful weekend!
At lunchtime today, Mathias and I visited Café Folkestedet in Århus – a small, budget-friendly café neither of us had heard of before.
Folkestedets Café er drevet af cater- og kokkeelever fra Århus Tech. Maden er god, menukortet småt og priserne meget lave. Vi delte en bolle med ost, fik hver et stykke smørrebrød med ribbenssteg, og så sluttede vi af med en lille kage. I alt kom vi af med 87 kroner. Det kan jeg slet ikke komme mig over. Normalt bryder jeg mig faktisk ikke om hverken ribbenssteg, rødkål eller svesker, men maden så så fin ud, at jeg måtte prøve den, og jeg blev meget positivt overrasket. Bollen var lækker (vi skulle nok have købt lidt ekstra med hjem!), så selvom kagerne var en smule tørre, havde vi en supergod madoplevelse – især Mathias, der oveni hatten også fik alle mine flæskesvær. Dem kan jeg simpelthen ikke få ned.

Folkestedets Café is run by apprentice chefs from the school Aarhus Tech. The food is good, the menu limited and the prices very low. We shared a bun with butter and cheese, and we each had a piece of the Danish "smørrebrød" with rib roast, red cabbage, prunes and gherkins and even though I would normally never eat any of those things, I was very pleasantly surprised. And we only paid £9. In total. Crazy.
Folkestedets Café har åbent i hverdagene fra 8-15. Der er stor, lækker brunch til 65,- mellem 9 og 11, frokost fra 11.30-13.45 og kaffe og kage fra 11.30-15.00
Normalt har de altså ikke åbent i weekenden, men vi var heldige at ramme et julemarked. Næste gang tror jeg, vi prøver at nå derned til deres brunch, der lød virkelig lækker.
Har I besøgt Folkestedets Café, og vidste I overhovedet, at den eksisterede? Jeg er dæleme glad for, at jeg endelig fandt ud af det :)

Folkestedets Café is open weekdays from 8.00-15.00.
We really want to try their brunch, so next time we'll make sure to be there before 11 :)
Folkestedets Café
Carl Blochs Gade 28
Tlf. 29 48 19 38
Åbent mandag-fredag 8.00-15.00
Lukket i weekenden
---
PS. Husker du at følge med på
Instagram
? Du kan også følge bloggen via
Bloglovin
eller på bloggens
Facebookside
, som jeg opdaterer dagligt! Du kan også skrive en kommentar til dette indlæg – jeg svarer ALTID tilbage! :)