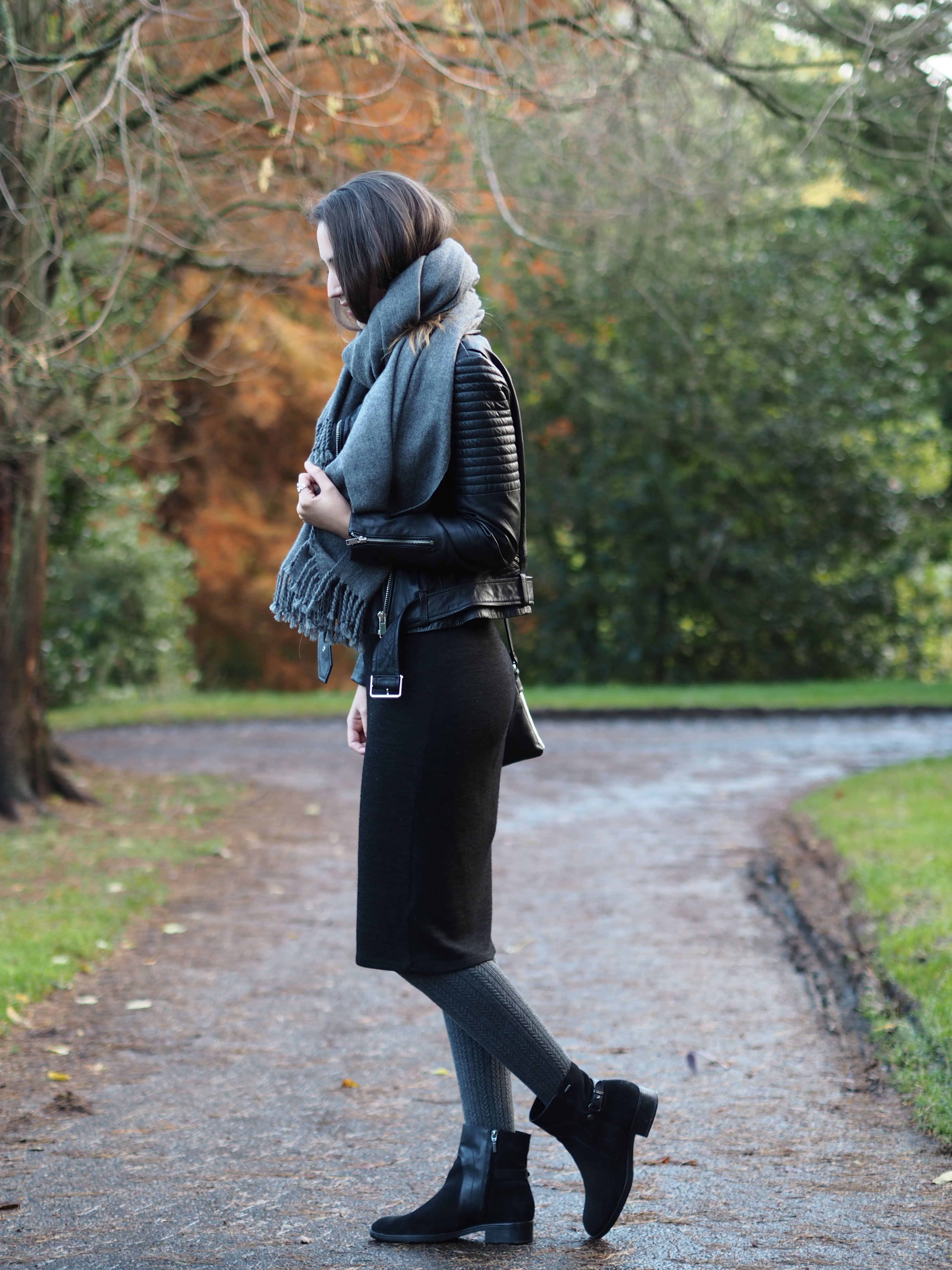 GINA TRICOT DRESS (SIMILAR) / GEOX BOOTS (SIMILAR) / H&M TIGHTS (SIMILAR) / ZARA LEATHER JACKET (SIMILAR) / PULL & BEAR BAG
Kender I de morgener, hvor man står op og bare slet slet ikke kan overskue at have bukser på? Sådan har jeg det virkelig ofte, når det bliver koldt udenfor. Så har jeg bare lyst til at trække i noget blødt og varmt, og det var lige, hvad jeg gjorde i går. Dejligt tykke strømpebukser og en højhalset kjole, der er så komfortabel, at det føles som at hoppe med hovedet først ned i en striksok. På den gode måde, forstås.
I dag skal jeg noget, der for mig er lidt vildt. Jeg skal til København. Alene. Ja, jeg ved godt, det er sådan noget de fleste gør hver anden uge før morgenmaden, men for mig har det været en overvindelse af dimensioner. Jeg har faktisk ikke været derovre, siden vi sidste år i august besøgte min grankusine i forbindelse med vores USA-tur. På den ene side glæder jeg mig. Jeg har et ret pakket program, der indeholder en ordentlig håndfuld dejlige mennesker, et spændende møde og en julefrokost med de andre Buzzanovabloggere (som jeg ikke har mødt før) – og på den anden side tér min krop sig, som om jeg står på kanten af en klippe, mens mit hoved konstant overtænker alt. Hvilken station skal jeg af ved, hvad koster billetten, og hvor køber man den, hvor mange zoner, hvor lang tid, jeg glemmer garanteret noget, hvad nu hvis jeg misser toget, hvor kikset er det lige med en rygsæk, ej min rullekuffert er skriggrøn, det er værre, skyder de egentlig ikke ret meget i hovedstaden, hvad fanden gør jeg, hvis jeg bliver træt? Og jokeren: Hvad nu hvis jeg får et angstanfald. Det er noget af det lede ved angst – man bliver bange for den. Men denne gang skal det ikke afholde mig fra at tage af sted. Det er to døgn, og jeg kan sove i bussen.
Jeg har mit nye kamera med, og jeg regner faktisk med at se, om ikke det bliver muligt for mig at vlogge en smule undervejs. Jeg er helt forelsket i det kamera, altså. Det er også derfor, der virkelig er billedspam herinde i dag. Jeg er stadig ikke helt fortrolig med det, men jeg lærer nok det meste i løbet af de næste par dage – og så er jeg bare vild med, at jeg ikke skal slæbe mit spejlrefleks med!
Så det er mine planer for de næste par dage. Hvis I ser en lettere beklemt jyde med en grøn rygsæk – så er det nok mig. Jeg så lige på min statistik forleden, og det gik til min store forbløffelse (jeg kigger alt for sjældent på den statistisk!) op for mig, at en tredjedel af jer er fra hovedstaden! Det er da lidt vildt, synes jeg. Men nu kommer jeg og gør byen usikker. Der er bare lige en fire timers bustur, der skal krydses af listen først :) Wish me luck!
Do you know those mornings where you get out of bed and just can't deal with putting on pants? That how I feel when it's cold outside. I just want to pull on something warm and snuggly and be done with it which is exactly what I did yesterday. Nice thick tights and a turtleneck dress that is so comfortable it feels like wearing a big sock.
Today, I'm going to do something which for me is a little crazy. I'm going to Copenhagen. Alone. Yes, I know it's only 3-4 hours away and that most people go back and forth all the time, but for me it's kind of a big deal. I have not been over there since August of last year when Mathias and I visited my cousin before we went to the US. I have a fairly packed programme. I meeting a lot of great people, I have a business meeting and a Christmas party with a bunch of bloggers I've never met before. One the one hand I'm so excited, but, on the other hand, I feel like I'm falling off a cliff. My anxiety is running wild, and everything in me screams not to go. I'm afraid of my anxiety – of having a panic attack so "far" from home. But I'm going. I don't want to let my anxiety dictate my life. I'm just crossing my fingers (and researching the h-e-double hockey sticks out of everything that could go wrong. It's so annoying.
I'm bringing my new camera and I can't wait to photograph everything! So happy I won't have to carry my DSLR around! So. Those are my plans for the next few days. If you're in Copenhagen and see a confused girl with a green backpack – it's me. I'm only a four-hour bus ride away :) Wish me luck!
---
PS. Husker du at følge med på
Instagram
? Du kan også følge bloggen via
Bloglovin
eller på bloggens
Facebookside
, som jeg opdaterer dagligt! Du kan også skrive en kommentar til dette indlæg – jeg svarer ALTID tilbage! :)