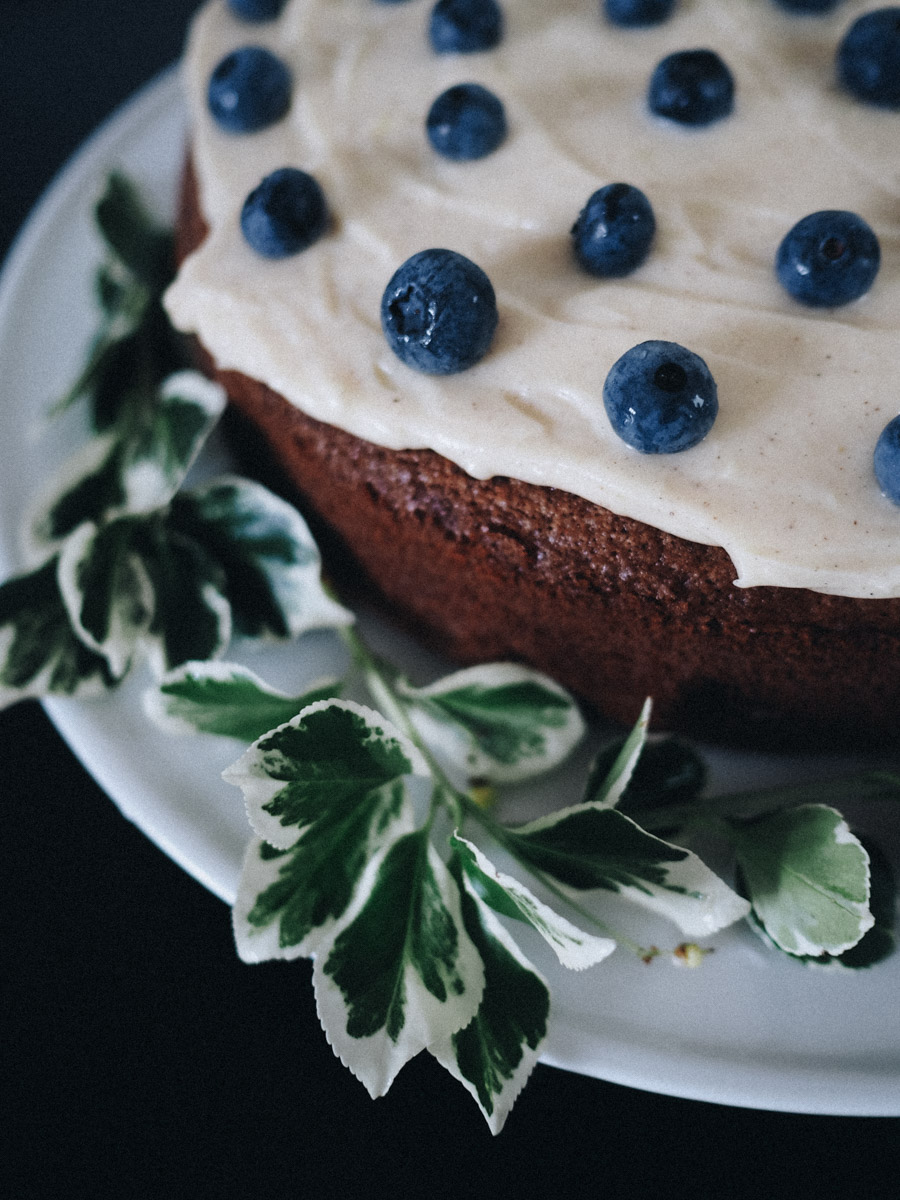 Gulerodskage er en af mine absolutte yndlingskager. Som barn valgte jeg altid den og banankagen fra, fordi de lød så sunde, men i løbet af mine tyvere har jeg virkelig lært at værdsætte en god, svampet gulerodskage. Og desværre også indset, at det der med sundheden ikke var noget, jeg skulle have bekymret mig så meget om. Min yndlingsgulerodskage har længe været muffin-versionen fra Viborgs Søster Lagkage, men det her er faktisk den bedste gulerodskage jeg nogensinde har både smagt og lavet. Engang var ostecreme noget, jeg ikke vil røre med en ildtang, men i dag ser jeg ostecreme som et direkte bevis på, at verden ér et godt sted at være.
Det eneste problem med gulerodskagen er, at den indeholder både ost, smør og æg og derfor ikke just passer ind i det plantebaserede køkken, som jeg ellers hovedsageligt bekender mig til, men jeg har desværre indtil videre ikke haft det store held med veganske kager (hvis jeg får én bid mere, der smager af figenstang …), så til min kandidatfest senere i går gik jeg all in på dette vidunder af en gulerodskage (nå ja, og så en portion af disse himmelske chocolate chip cookies). Skal der være fest, så lad der være fest, you know. Hvis nogle af jer ligger inde med en opskrift på en vegansk gulerodskage, må I dog meget gerne sende den min vej!
Denne gulerodskage er alt, hvad en gulerodskage skal være. Svampet og lækker, ikke alt for sød, med et frisk lag af ostecreme på toppen, og der var bred enighed om, at den var latterligt god! Min opskrift er helt basic, for det kan jeg selv bedst lide, men du kan selvfølgelig tilføje 1 dl nødder eller rosiner (eller begge dele) til kagen, hvis du er til den slags. En kage passer til ca. 10-12 personer.
Ingredienser til gulerodskage
1,5 dl smagsneutral olie
1/2 dl soyamælk (el. alm. mælk)
1,5 dl brun farin
1,5 dl rørsukker
4 æg
5 dl mel
350 g gulerødder
2 tsk kanel
2 tsk bagepulver
1 tsk vaniljepulver
1/2 tsk natron
1/3 tsk salt
Ingredienser til ostecreme
200 g Buko Naturel (el. Philadelphia)
100 g smør
200 g flormelis
1/2 tsk vaniljepulver
Skallen af 1/2 citron
Mange opskrifter foreslår mere både smør og flormelis, men jeg synes, det er lækrere, når smøret ikke trænger så meget igennem, og ostecremen ikke er hvinende sød. Hvis du er til en lidt tungere version, kan du evt. tilføje 25-50 g mere af både smør og flormelis. Jeg vil ikke anbefale at skippe citronskallen, for det syrlige er en god kontrast midt i alt det søde.
Fremgangsmåde
1. Riv gulerødderne groft.
2. Bland sukker, farin og æg i en skål og miks sammen med en elpisker. Når det er blandet, tilsættes mælk og olie, og det piskes igen.
3. Bland mel, vaniljepulver, kanel, natron og bagepulver i en anden skål og tilsæt det til sukkerblandingen.
4. Vend de revne gulerødder i kagedejen.
5. Bag i en smurt springform på 180 grader i 1 time.
6. Imens kagen er i ovnen piskes ingredienserne til ostecremen sammen. Smag evt. til med mere citronskal, hvis du vil have cremen mere syrlig.
7. Når kagen er kølet af, fordeles ostecremen på kagen. Pynt evt. kagen med (hakkede) nødder, bær eller gulerodsstrimler.
---
PS. Husker du at følge med på
Instagram
? Du kan også følge bloggen via
Bloglovin
eller på bloggens
Facebookside
, som jeg opdaterer dagligt! Du kan også skrive en kommentar til dette indlæg – jeg svarer ALTID tilbage! :)