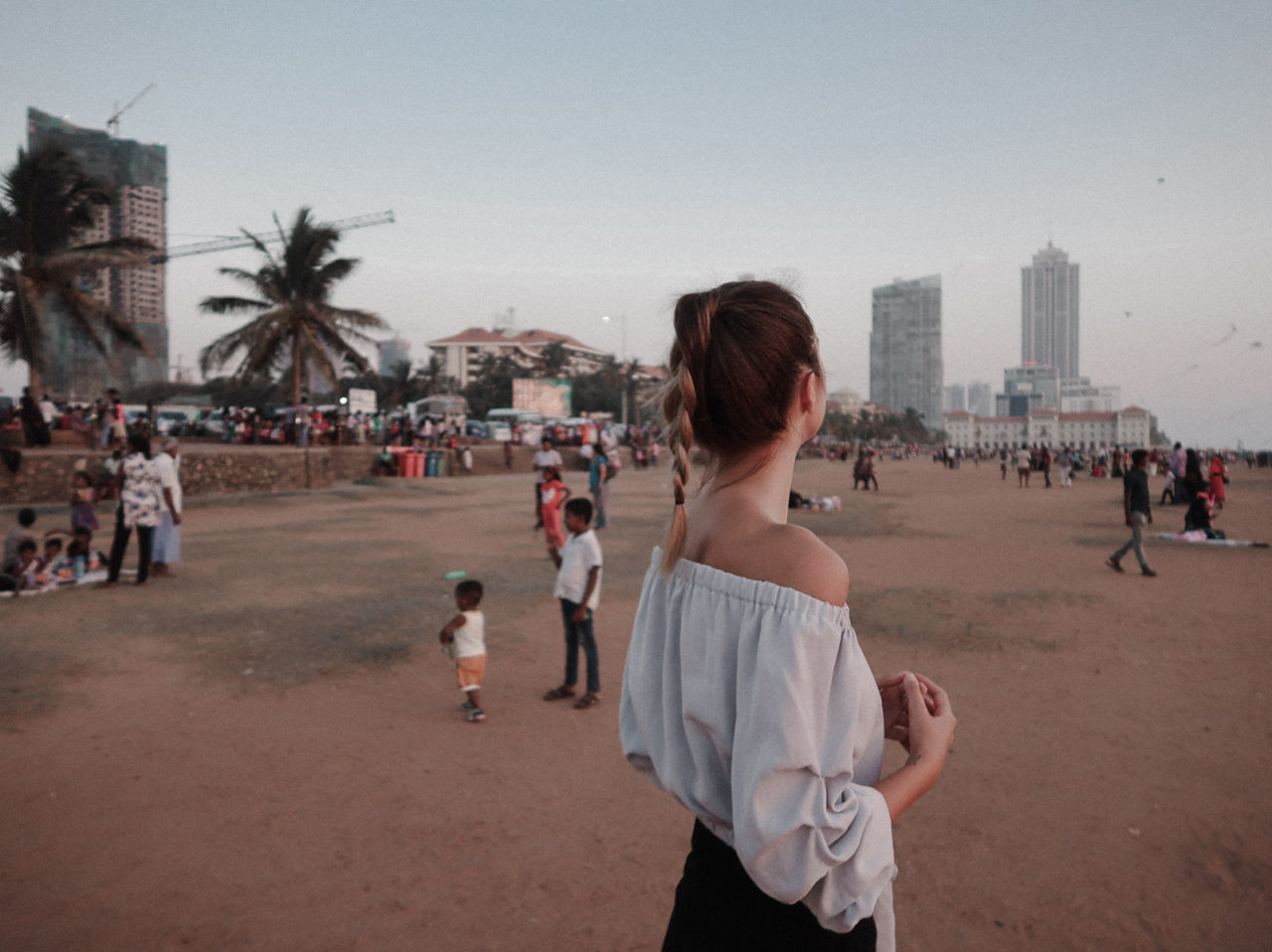 Det er altid spændende at ankomme til et nyt land for allerførste gang. Alle steder har deres helt egne dufte og deres helt eget lys, og selvom det bare er små sanseindtryk, er det noget af det, jeg allerførst lægger mærke til.
Jeg kan stadig huske, da jeg som 9-årig sad i bilen fra lufthavnen i Charlotte, North Carolina og tænkte over, hvordan lyset var helt anderledes i USA. At bilen havde tonede ruder, og at forskellen var væsentligt mindre, end jeg først troede, er så en anden historie. Jeg var ni år. Give me a break.
Jeg havde regnet med, at vores første timer i Sri Lanka ville være temmeligt kaotiske. Jeg husker stadig med gru, da vi i 2016 ankom til Bali og blev overfaldet af ihærdige og nærmest truende taxachauffører, hvilket endte i et mindre panikanfald fra min side. Jeg troede, Sri Lanka ville være nogenlunde ligesådan, men jeg tog heldigvis fejl.
Da vi kom igennem immigrationen, var det første, vi så, en håndfuld butikker, der forhandlede hårde hvidevarer. Vaskemaskiner og sådan. Det har jeg sgu aldrig set i en lufthavn før. Hvem kommer til et nyt land (eller hjem for den sags skyld) og tænker, som det allerførste, "jeg nupper da lige en vaskemaskine med hjem". It baffles me, men okay. Det var en hyggelig besynderlighed.
Der var de obligatoriske taxachauffører, men de var ikke aggressive (om end de forsøgte at bilde os ind, at turen til Colombo tog to timer med bus i stedet for de 40 minutter, den tager), og vi slap let ud af lufthavnen og hen til bussen, der fint holdt og ventede. Der var mange ledige pladser, og alt gik som smurt, og det havde jeg slet ikke regnet med.
Det betød, at vi havde både lidt tid og overskud til at få noget ud af vores første dag i Sri Lanka, og jeg har samlet vores første dag i Sri Lanka i denne lille video, som jeg håber, I har lyst til at se.
Jeg har på det sidste fået nogle negative kommentarer (fra nogle sure, gamle mænd), der mener, at jeg er for negativ (oh, the irony), og selvom jeg egentlig prøver at hoppe op og falde ned på den slags, har jeg tænkt noget over det. Og jeg kan ikke se det (haha, så meget for selvindsigt). Jeg synes, jeg konstant fabler om, hvor smukt og dejligt alting er (så meget, at jeg er begyndt at blive sur på mig selv, når jeg redigerer videoerne og hører enten "beautiful" eller "amazing" (jeg skal seriøst have fat i nogle flere adjektiver!)).
Og hvad er det så? Jeg tror, det er noget skandinavisk noget. Måske endda noget jysk. Jeg kan godt se, at mange rejsevloggere gør en dyd ud af at holde energiniveauet superhøjt, men det I ser på videoen, er det, der sker. Vi har ikke "sat det op", og jeg tager ikke en ny, frisk og speedet personlighed på, fordi kameraet peger på mig. Jeg siger, hvis der er pissevarmt, og jeg er ved at dejse om, og jeg viser ikke kun alle de gode ting, for jeg vil gerne give et nogenlunde troværdigt billede af (både mig selv og) de forskellige lande og steder.
Jeg håber, at I kan se, hvor meget vi holder af de steder, vi besøger, uden at jeg giver mig til at råbe og gestikulere (mere end jeg i forvejen gør). Hvis I har nogle ønsker til videoer, eller hvis I har forslag til, hvad vi kan gøre bedre, så må I endelig sige til. Jeg vil langt hellere høre fra jer end fra de sure, gamle mænd med liggesår og podagra og nyresvigt.
---
PS. Husker du at følge med på
Instagram
? Du kan også følge bloggen via
Bloglovin
eller på bloggens
Facebookside
, som jeg opdaterer dagligt! Du kan også skrive en kommentar til dette indlæg – jeg svarer ALTID tilbage! :)