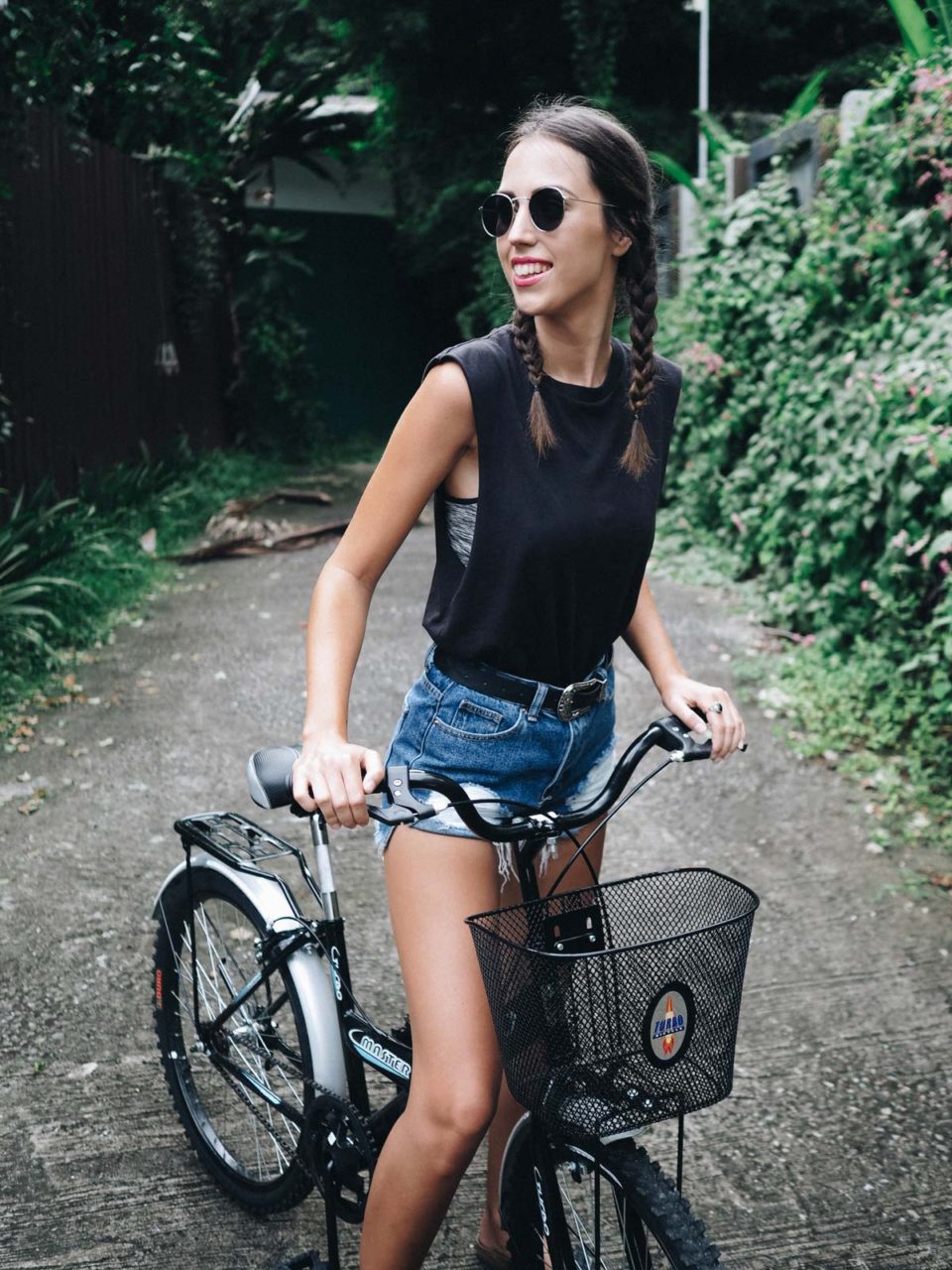 … købte vi, da vi ankom til Chiang Mai, to børnecykler, så vi kunne komme rundt i byen. Det er nærmest umuligt at købe voksencykler her, for det er ganske enkelt ikke noget, man bruger. Når man kan køre på scooter, så kører man på scooter.
… hvilket minder mig om, at vi har lejet en scooter. Vi kom ganske enkelt ikke rigtig rundt på de små cykler. Vi bruger dem til de små distancer, men der er nu noget skønt ved at have frihed til at tage på udflugt ud af byen, når vi har lyst!
… var vi til Halloween-meet up i går, hvilket betød, vi skulle finde på nogle kostumer. Mit endte med at koste 5 kroner, og Mathias' kostume sneg sig op på næsten 6 kroner.
… er dyreører altid vejen frem, når man ikke lige har et kostume.
… skal vi ud at bowle lige om lidt. Jeg kan ikke huske, hvornår jeg sidst har bowlet, men jeg har til gengæld en ret solid erindring om, at jeg i hvert fald ikke er god til det.
… er regnsæsonen nu endelig ovre i Chiang Mai, hvilket betyder blå himmel og 29 grader nærmest hver dag. Jeg har været hamrende utålmodig, men nu er ventetiden endelig forbi!
… er jeg nu blevet så tilpas brun, at jeg ikke ser nogen grund til at koncentrere mig mere om det projekt.
… ej okay, det er måske lidt løgn. Der er altid en grund til at ligge ved poolen og læse.
… bliver jeg svært glad, hver gang jeg det lykkes mig at finde noget lokalt tøj, der passer.
… det er dog endnu ikke sket på skofronten, hvor en størrelse 40/41 er anledning til så meget morskab, at jeg nu nærmest er bange for at prøve klipklappere.
… er det en sær fobi at have.
… skal vi være ved bowlingbanen om 38 minutter, og vi har stadig ikke fået aftensmad. Jeg smutter – og så lover jeg at blive bedre til at opdatere bloggen!
… Ps. … Jeg har sgu savnet jer!
---
PS. Husker du at følge med på
Instagram
? Du kan også følge bloggen via
Bloglovin
eller på bloggens
Facebookside
, som jeg opdaterer dagligt! Du kan også skrive en kommentar til dette indlæg – jeg svarer ALTID tilbage! :)