For næsten to år siden delte jeg nogle billeder fra mit makeuphjørne, som er det sted, hvor jeg bruger mine morgener på at sidde og se Friends, spise morgenmad og gøre mig klar til dagen. Det er billeder fra bloggens spæde begyndelse, og det bærer de virkelig præg af, men det er meget sjovt at have dem og kunne se tilbage.
Siden dengang er jeg dog i den grad vokset fra den lettere kluntede løsning, og Mathias og jeg har længe talt om, om ikke vi kunne finde et alternativ, der så en smule mindre præpubertært ud. I fredags gjorde vi så alvor af snakken og tog i IKEA på jagt efter denne plakat, der dog desværre viste sig at være udsolgt. Men ifølge en af verdens mest universelle regler kan man jo ikke gå tomhændet fra IKEA, så vi endte i stedet med at hive det fine Vittsjö-bord ned fra hylden og lade det erstatte det hvide skrivebord med den orange skuffe, som vi begge længe gerne har villet skille os af med.
Der er dog det med Vittsjö-bordet, at det kommer med en hylde i et brunligt trælook, som ingen af os brød os om, men efter verdens hurtigste IKEA DIY – 10 minutter og en rulle hyldepapir – var det problem løst, og jeg er så glad for resultatet.
Først havde jeg planer om at male stellet, men da bordet kom på plads, kunne jeg meget godt lide det mørke stel mod den hvide væg, så foreløbigt får stellet lov til at være i fred. Marmorhyldepapiret er fra Silvan, hvor en rulle med to meter koster 48 kroner.
Jeg er ikke helt færdig med området endnu, og jeg er lidt udfordret af, at jeg nu ikke længere har skuffen under bordet til at mit habengut, men heldigvis har jeg altid elsket at sidde og dimse, omrokere og organisere, så det finder jeg nok ud af :)
Der er nærmest uanede muligheder med det nye bord, og jeg overvejede også denne løsning, men det kan jeg jo altid lave senere, hvis jeg bliver træt af glaspladen.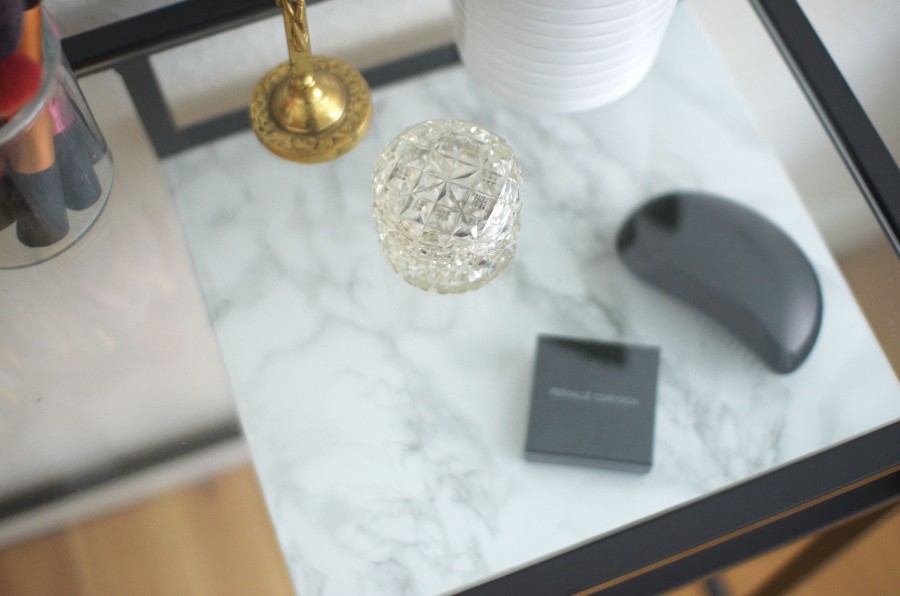 Se hvad andre har lavet med bordet her, her, her og her.
---
PS. Husker du at følge med på
Instagram
? Du kan også følge bloggen via
Bloglovin
eller på bloggens
Facebookside
, som jeg opdaterer dagligt! Du kan også skrive en kommentar til dette indlæg – jeg svarer ALTID tilbage! :)