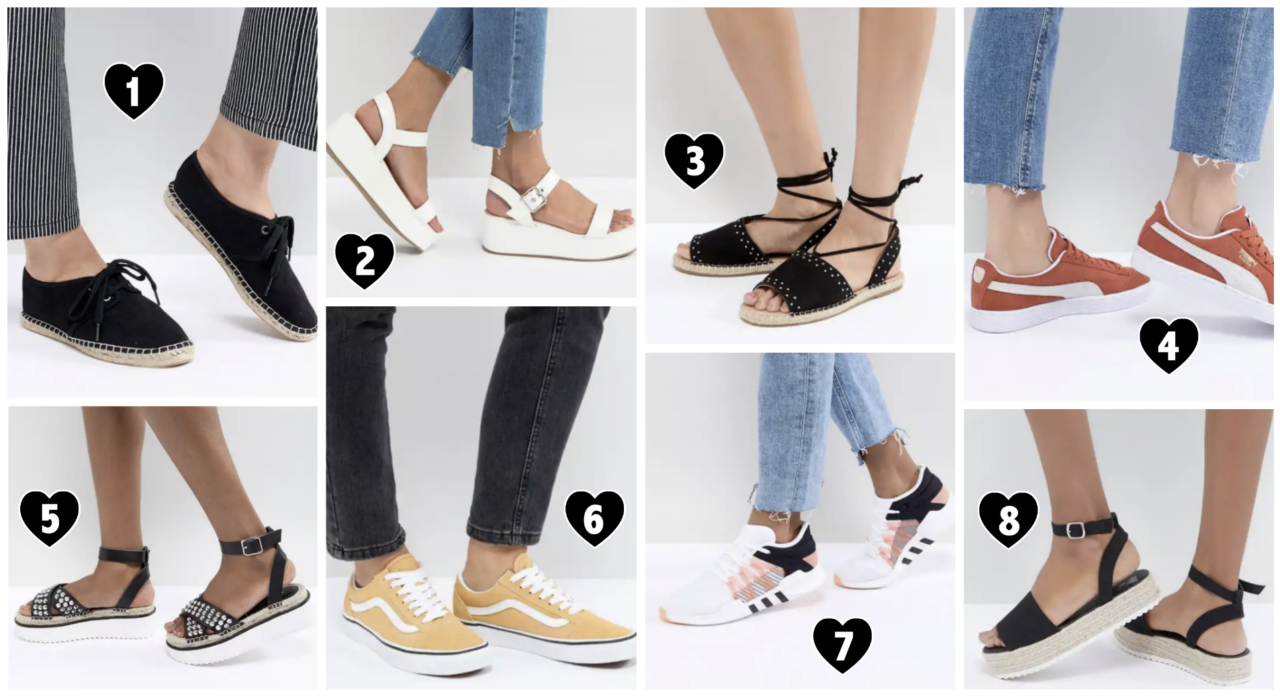 1. Lace Up Espadrilles 2. Hvide plateausandaler
3. Espadrille Sandals 4. Puma Suede Trainers
5. Studded Flatforms 6. Yellow Vans
7. Adidas Trainers 8. Flatform Sandals
Alle produktlinks er affiliatelinks.
Der er efterhånden kun et par dage tilbage, før vi igen lander på dansk jord. Asien er skøn, og der går garanteret ikke mange dage, før jeg savner sol og friske kokosnødder, men der er én ting, jeg ikke kommer til at savne, og det er at være højere end næsten alle andre. Som mand er det måske ret lækkert, men som kvinde… Ja, det er fedt at kunne gå rundt inde på et marked og have hovedet frit, selvom man står som sild i en tønde, men derudover er det ikke noget, jeg er så tosset med. Jeg kommer hurtigt til at føle mig stor og klodset, og jeg får verdens dårligste holdning, fordi jeg går rundt og lader, som om jeg er en lille, fin asiat.
Når vi lander i Danmark, kan jeg endelig smide klipklapperne og mine temmeligt udtrådte sorte vans og gøre livet lidt mere spændende syd for anklerne. I al min eufori over at være på vej til lande fyldt med høje mennesker bestilte jeg for et par dage siden tre par nye sko, der gerne skulle stå og vente på mig, når jeg kommer hjem, og ja – de er nok er alt for kolde til at have på i Danmark i april, men det bliver jo sommer engang (medmindre det altså går som sidste år, men det gør det ikke, for det ville være dybt urimeligt), og vi daffer desuden til Grækenland i begyndelsen af maj, så mon ikke det skulle være muligt at få lidt sol på tæerne.
Jeg er helt og aldeles forelsket i de fine sneaks fra Adidas, og jeg bliver ved med at putte dem i kurven, men så røg de alligevel ud, da jeg gik kurven igennem og indså, at jeg kunne få dem eller tre af de andre par plus det løse for deres pris. Men jeg tænker stadig over dem. Alvorligt.
I stedet valgte jeg at omfavne min indre Spice Girl og bestille de hvide plateausandaler, og jeg har allerede planlagt cirka 100 outfits med dem i mit hoved. Jeg blev helt nostalgisk, da jeg så dem, og hvis jeg lukker øjnene og tænker på dem, kan jeg næsten lugte de små pakker med Spice Girls-billeder. Heldigvis kan jeg ikke lugte klasseværelset, hvor vi byttede dem i frikvartererne. Nøj, jeg glæder mig til at hoppe i dem! Jeg har købt en masse kimonoer på Sri Lanka, og jeg tænker, et par stumpede jeans, en kimono, en lille top og så de hvide plateausandaler… Det bliver så fint!
Derudover er nummer 1 og 8 også på vej hjem til mig (eller, teknisk set til min far, men han kan ikke passe dem), og nu begynder jeg at overbevise mig selv om, at jeg har brug for et par gule vans. Fordi det bliver sommer.
Nu vil jeg lukke alle mine mange ASOS-faner og hoppe ned under lagnet med min Kindle. I morgen tidlig flyver vi fra Colombo til Bangkok (med en mellemlanding i Kuala Lumpur), og så er vi jo lige pludselig tilbage i Europa. I hører nok ikke ret meget fra mig inden da, så I får lige et tidligt ønske om en fremragende weekend!
---
PS. Husker du at følge med på
Instagram
? Du kan også følge bloggen via
Bloglovin
eller på bloggens
Facebookside
, som jeg opdaterer dagligt! Du kan også skrive en kommentar til dette indlæg – jeg svarer ALTID tilbage! :)