En af grundene til, at vi i første omgang valgte Sri Lanka, var, at den offentlige transport er utroligt billig og velfungerende. Man kan derfor komme fra den ene ende af landet til den anden for mindre end en tyver, og selvom det kræver en del tid, er det en fantastisk rejseform. I hvert fald når man vælger at rejse med tog. Busserne skulle ikke være ret behagelige, og ud fra hvad vi indtil videre har set til ekspresbusserne til og fra hovedstaden, ligner det umiskendeligt, at de alle bliver styret af Ernie Prang (altså, ham der kører the Knight Bus i Harry Potter), for hold nu kæft hvor de kører vildt. Dem udskyder vi, til vi ikke kan undgå dem længere.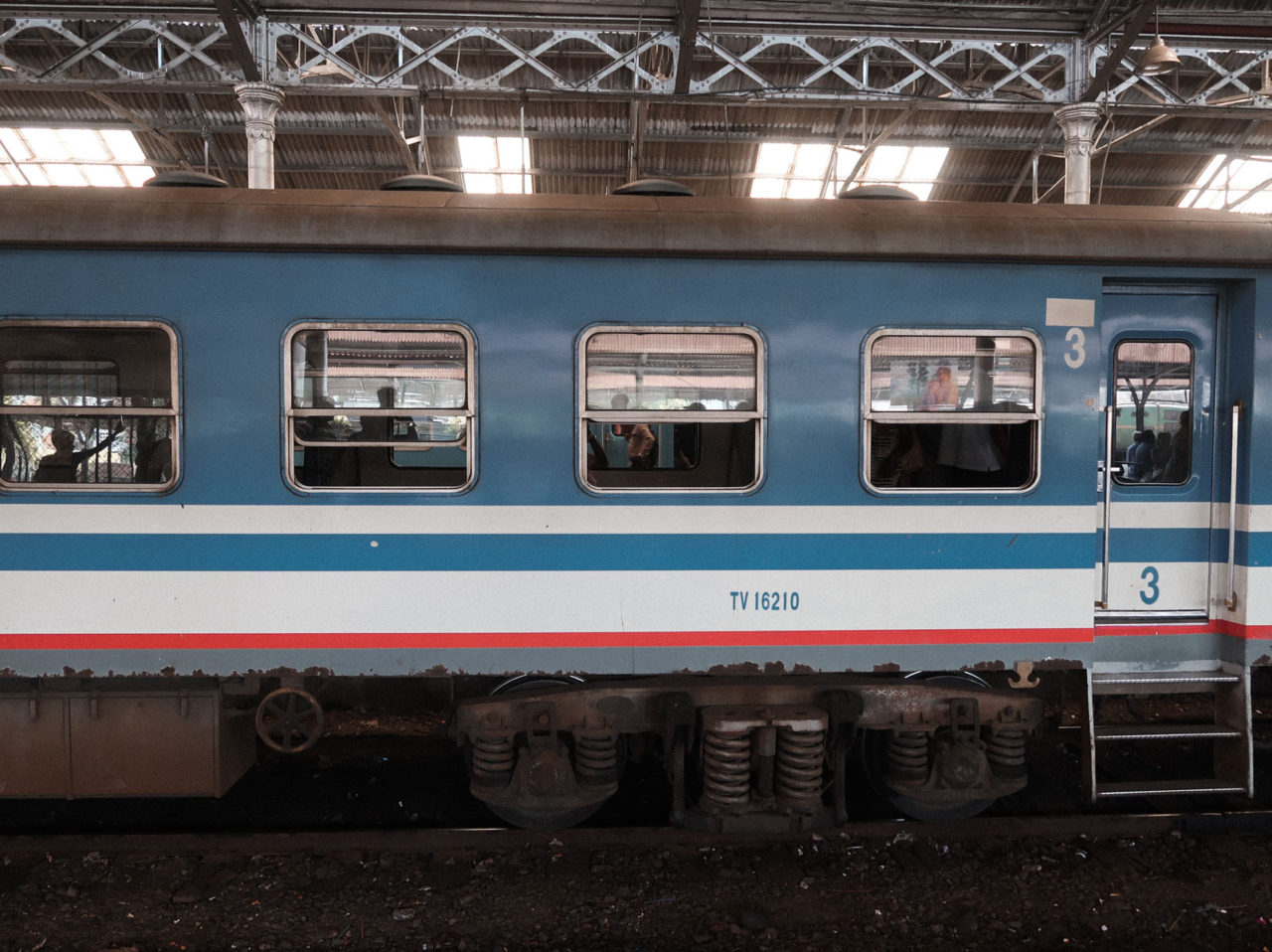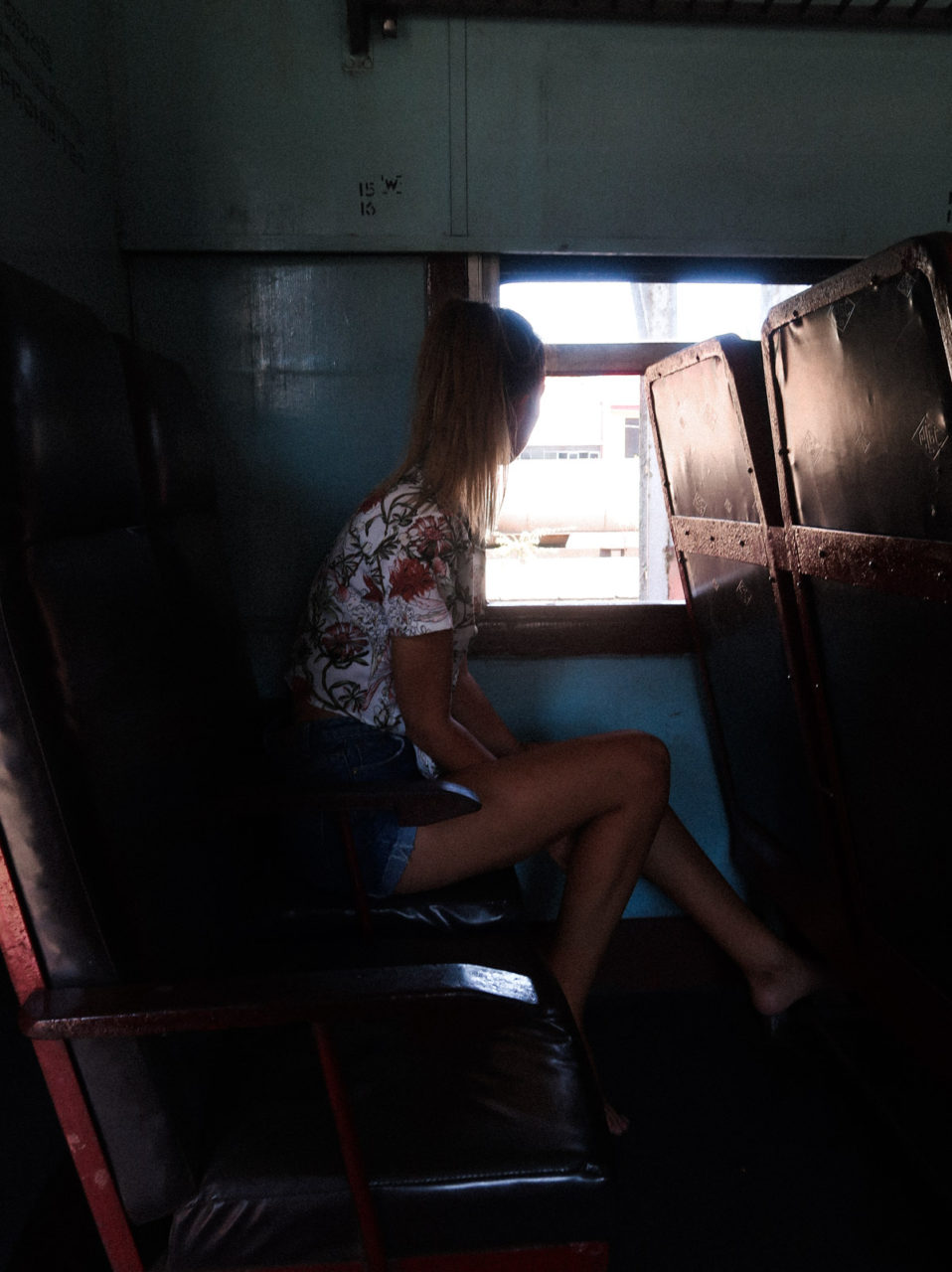 Toget var til gengæld en fantastisk oplevelse. Vi ankom til Colombo Fort Railway Station en halv time før afgang for at købe vores billetter. Vi havde været forbi dagen før, men der kunne vi ikke få lov at købe dem. Vi valgte at køre på 2. klasse (der er slet ikke 1. klasse på den strækning, og det er heller ikke nødvendigt) og betalte hver 230 rupees (9 kroner) for turen fra Colombo til Matara, som på papiret tager ca. tre timer, men som endte med at tage fire. Vi kunne have sparet et par kroner, hvis vi hoppede om bord på 3. klasse i stedet, men efter at have kigget på de helt vinkelrette sæder, var vi ret sikre på, at vi gerne ville kaste 2 kroner efter lidt mere komfort.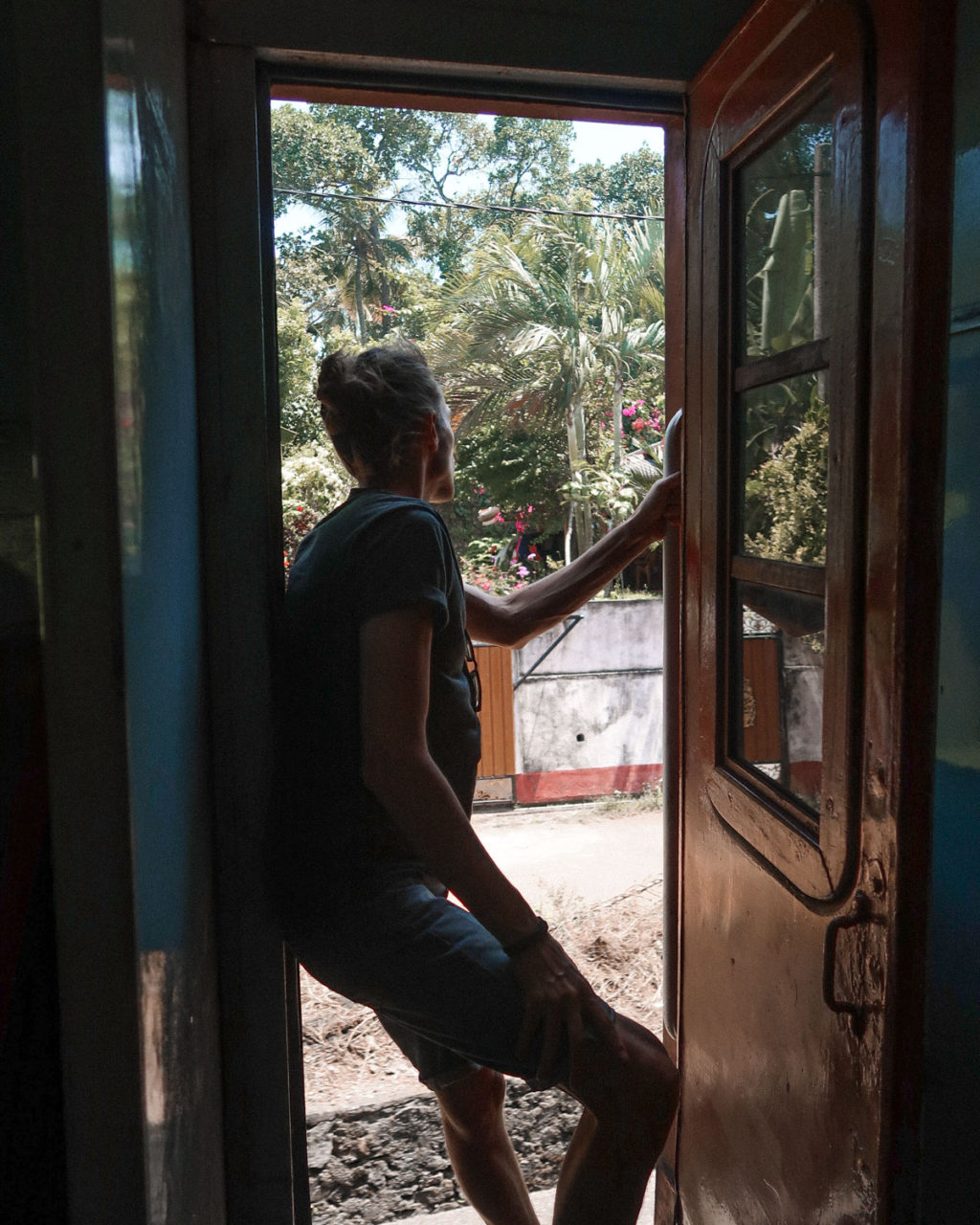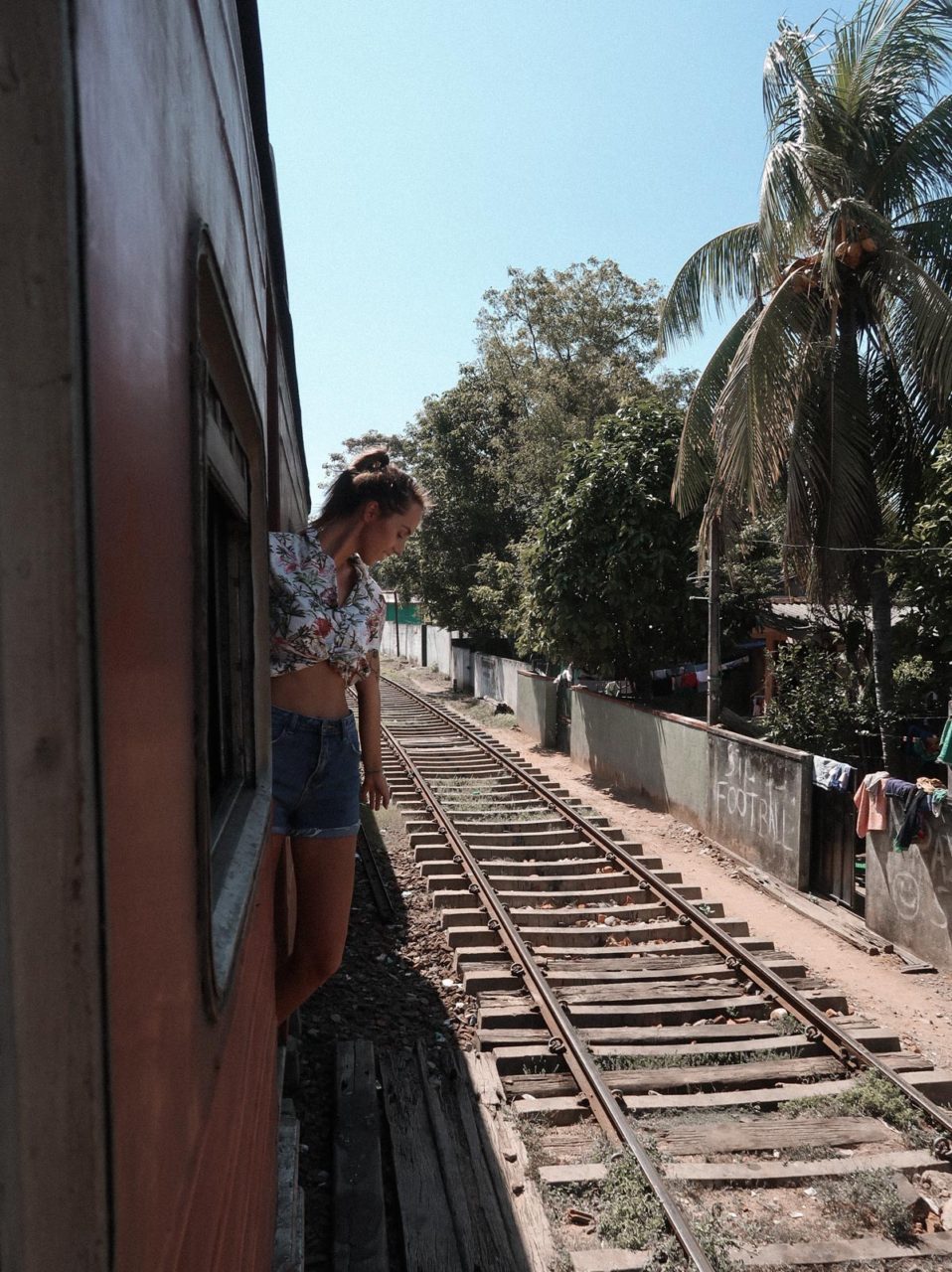 Tiden gik hurtigt, for mere end halvdelen af turen kørte vi langs med vandet, og den anden halvdel tog vi billeder og sad og hyggede os i døråbningerne. Toget kører sjældent ret stærkt, så man kan sagtens stå i døren og nyde udsigten, hvis man skulle have lyst til det.
Engang imellem kommer der nogen forbi, der sælger mad eller drikke, og så gik der lige en halv time med at sidde og pille og spise appelsiner. Det eneste negative ved togene er, at man ikke kan reservere en plads på forhånd. Derfor bliver det hele lidt kaotisk, når toget kører ind på perronen, og man bliver nødt til at være lidt oppe på dupperne, hvis man vil sikre sig en plads fra begyndelsen af turen.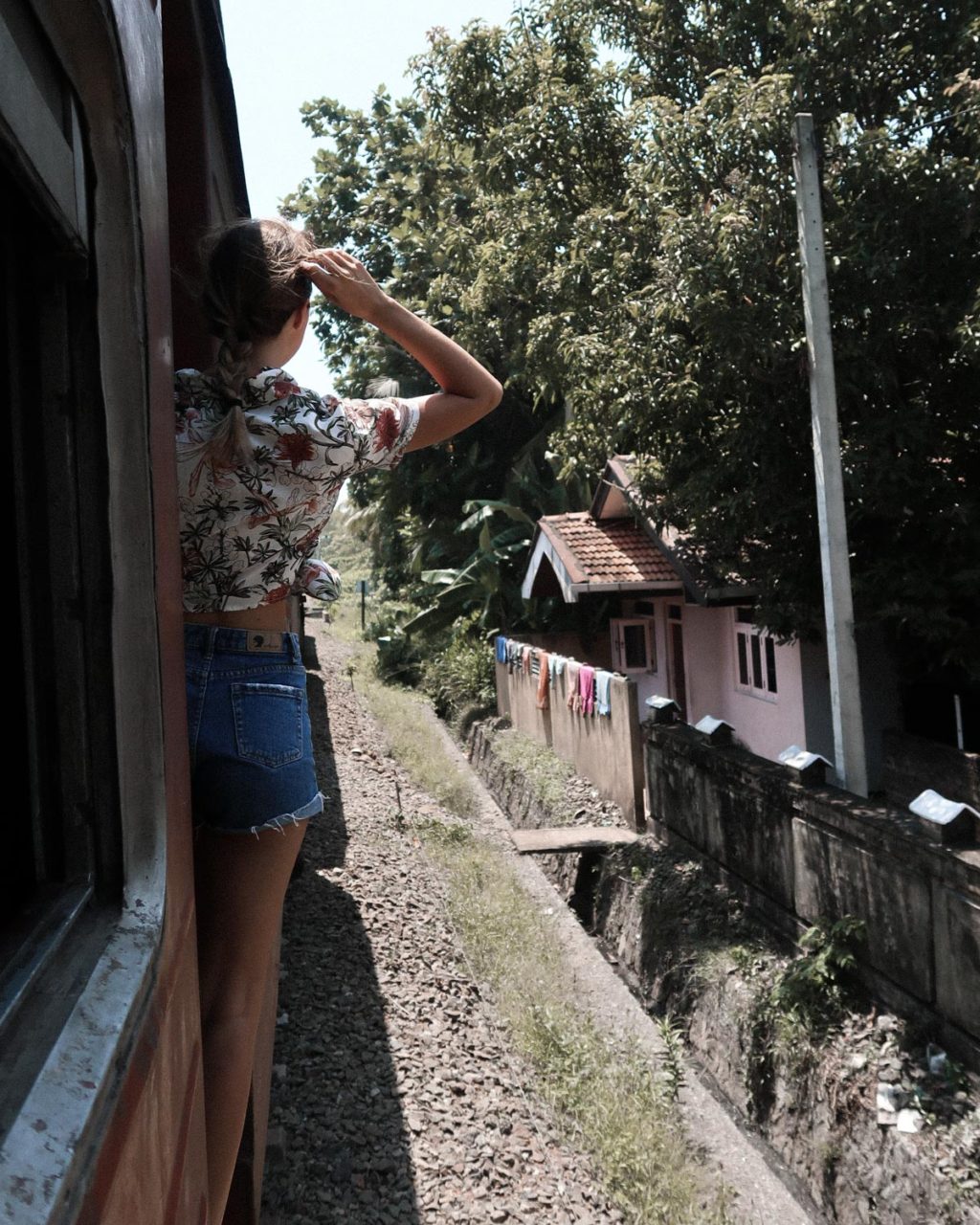 Vi var så heldige at stå et godt sted på perronen, og fordi vores bagage fyldte så meget, at selv de mest mosende havde svært ved komme forbi os, endte jeg med at stå i en helt tom vogn og kigge mig omkring, før alle andre kom ind, haha. Vi kastede bare taskerne hen på de sæder, der var tættest på, og i sidste ende fik alle vist en plads. Langt de fleste stod af i Galle, men vi skulle med helt til endestationen i Matara. Efter Galle var toget nærmest helt tomt.
Vi stod af i Matara, selvom vi faktisk godt kunne været stået af et par stop før, men stationerne var meget små, og vi havde ikke lyst til at være strandede og blive nødt til at betale, hvad end tuktukchaufførerne kunne finde på at kræve. De er altså lige lovligt friske. Fra Matara går der en bus tilbage til Mirissa, men jeg tror også, man med fordel kan stå af allerede i Weligama og så tage bussen derfra, hvis altså man ankommer i dagtimerne. Vi betalte 600 rupees (23 kroner) for en tuktuk de 12 km. tilbage til Mirissa, fordi vi ikke orkede at slæbe vores bagage hen til et busstoppested.
Vi kommer helt klart til at tage toget igen – en af verdens smukkeste togruter finder man nemlig på Sri Lanka på strækningen mellem Ella og Kandy, og det skal vi selvfølgelig opleve, når vi når dertil :)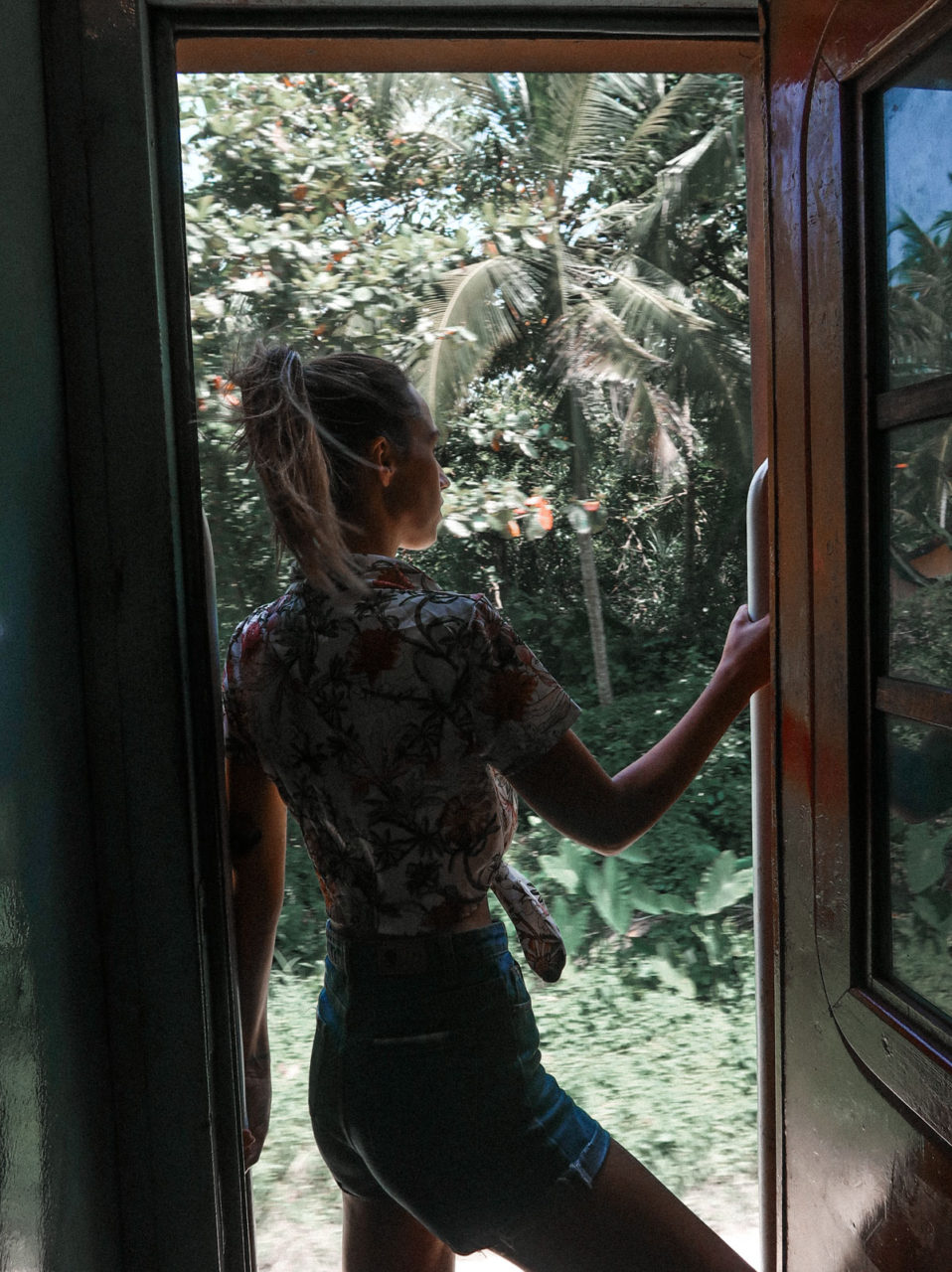 ---
PS. Husker du at følge med på
Instagram
? Du kan også følge bloggen via
Bloglovin
eller på bloggens
Facebookside
, som jeg opdaterer dagligt! Du kan også skrive en kommentar til dette indlæg – jeg svarer ALTID tilbage! :)