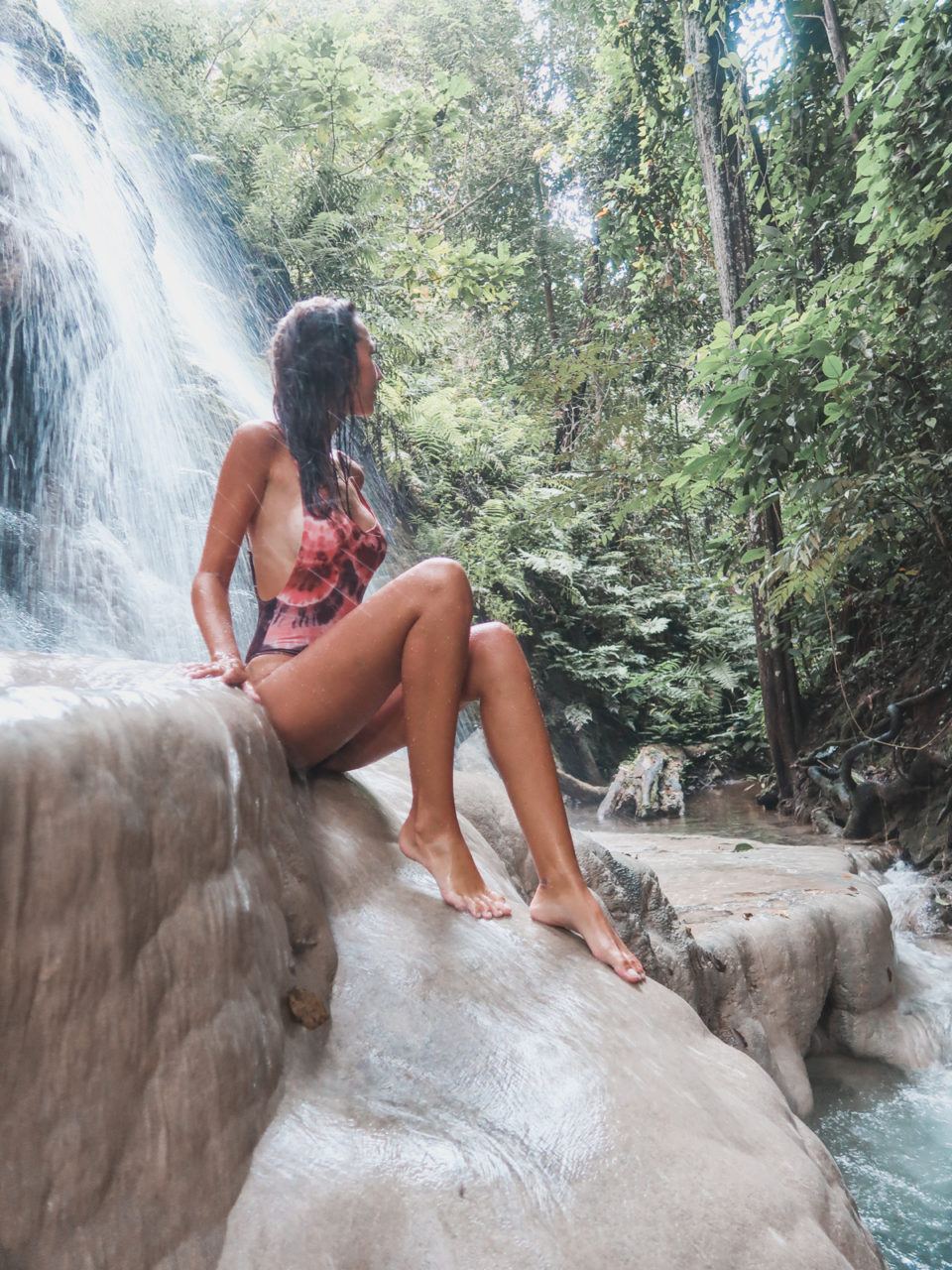 I skrivende stund sidder jeg under et skriggrønt myggenet og bliver pustet i hovedet af en blæser, der på ingen måder kan hamle op med de utroligt mange grader, der er på Koh Chang lige i øjeblikket. Jeg havde faktisk ikke forestillet mig, forskellen på Chiang Mai og Koh Chang ville være så stor vejrmæssigt, men hold nu op hvor er der varmt og fugtigt hernede. Og varme og fugt – det rimer på myg. Hence, det skriggrønne myggenet.
Men i dag skal ikke handle om hverken myg eller Koh Chang – i dag har jeg nemlig en ny video klar til jer fra Chiang Mai fra en af de bedste dage, vi har haft på vores rejse so far. Og det siger skisme ikke så lidt. Jeg er, som I nok efterhånden har gennemskuet, en sucker for vandfald. Måske fordi jeg hver gang jeg tænker ordet "waterfall" med det samme kommer til at tænke på TLC og bliver helt nostalgisk. Eller fordi jeg uvægerligt kommer til at tænke på den sæson af popstars (måske Jons sæson?) hvor alle mændene sang "I'm loving angels instead", og hvor de fleste kom VIRKELIG galt af sted med waterfall-linjen. Åh, det var tider. Og speaking of Popstars er jeg forresten nærmest ulykkelig over ikke at kunne være med til Jons "Evig Ungdom"-koncerter. Jeg tror ikke, jeg kender nogen, der ville holde mig med selskab, men hvor ville jeg dog gerne have været af sted. Om ikke andet så for at kunne sige "HAHA, du tog fejl!" til min mor, der hårdnakket påstod, at jeg ville fortryde, de penge jeg brugte på at købe Jons CD. Money well spent. You can't put a price on that stuff.
Og nu tilbage til verdens bedste dag i Chiang Mai – nemlig dagen hvor vi besøgte de såkaldte Sticky Waterfalls. De står ikke rigtig i nogle guidebøger, men de er immervæk min absolutte favoritseværdighed i Chiang Mai. De ligger godt nok halvanden times kørsel uden for byen, men de er turen værd, og I kan garanteret se hvorfor i videoen.
Vandfald er som ofte hamrende svære at bevæge sig rundt på, men som navnet antyder, er Sticky Waterfalls ikke glatte, men … I gættede det: Sticky! Det skyldes en eller anden form for mineralaflejring, som jeg ikke har en fis forstand på, men i praksis betyder det, at man uden besvær kan klatre rundt i vandfaldet, og at det faktisk er muligt at gå op ad vandfaldet. Så det gjorde vi, og det var en helt vild fed oplevelse, som jeg kun kan anbefale. Vi tog af sted med nogle af vores venner, og som I kan se, havde vi en vildt god dag.
Det er på dage som denne, hvor jeg bliver lidt ekstra glad for, at jeg er hende den besværlige med kameraet, for det er så fint at kunne se tilbage på minder som disse i videoform.
Husk at I kan abonnere på min Youtubekanal, så I ikke går glip af de videoer, jeg ikke lige får delt på bloggen. For et par dage siden kom der en ny video fra vores tur op til Doi Suthep-templet i Chiang Mai, som I kan se her, hvis I gik glip af den :)
---
PS. Husker du at følge med på
Instagram
? Du kan også følge bloggen via
Bloglovin
eller på bloggens
Facebookside
, som jeg opdaterer dagligt! Du kan også skrive en kommentar til dette indlæg – jeg svarer ALTID tilbage! :)