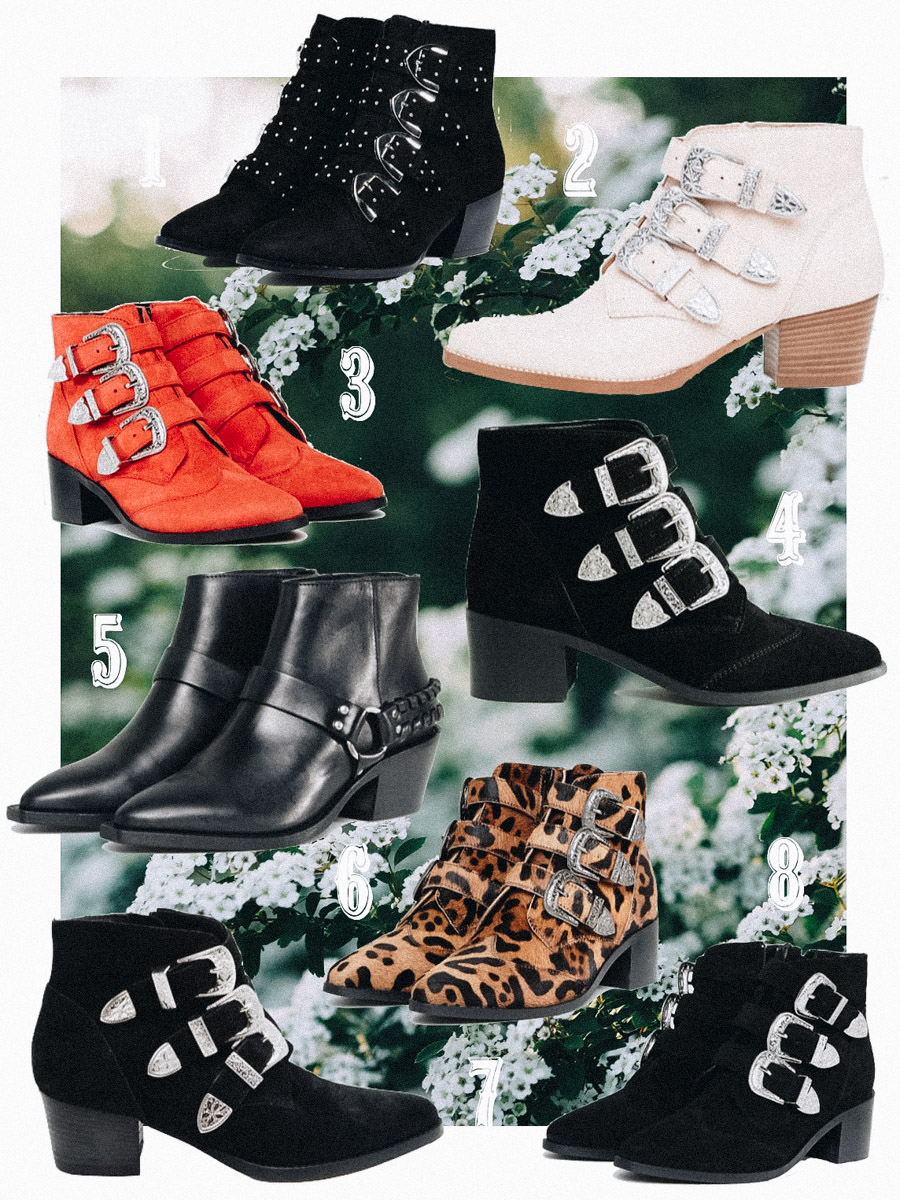 1. Stud Buckle Strap Boots 2. Cream Leather Buckle Boots 3. Orange Buckle Boots 4. Suede Western Buckle Boots 5. AllSaints Buckle Boots 6. Leopard Print Buckle Boots 7. Ryder Buckle Boots 8. Suede Buckle Boots
Vi havde lige 5 minutters sol i Viborg tidligere i dag, så jeg hoppede ud i hængekøjen, lukkede øjnene, tænkte lidt over livet, nød solen og konstaterede, at den var forsvundet bag en gigantisk sky. Det var dagens sommer-øjeblik, og det var lækkert, så længe det varede.
Men let's face it – det her vejr indbyder mere til støvler, end det gør til sandaler, og jeg har genfundet nogle "gamle" favoritter – nemlig mine buckle boots! Jeg ville have skrevet, at ord ikke kan beskrive, hvor glad jeg er for dem, men det kan de nok egentlig godt. Jeg orker bare ikke at bruge alle de adjektiver, støvlerne fortjener.
Jeg kan se, der stadig er en del af jer, der besøger dette indlæg fra sidste år, så nu har jeg fundet nogle flere fine buckle boots frem til jer. Flere af dem er meget ens, for de kommer det samme sted fra, nemlig ASOS hvor jeg også har købt mine egne buckle boots. Jeg synes, de orange støvler er megacool, men personligt er jeg stadig mest vild med de klassiske sorte, og mine er faktisk lige nu sat ned til bare 362 kroner. Det er dæleme en god pris for et par ruskindsstøvler.
Lædermodellen fra AllSaints er så cool og "Once upon a time in the West"-agtig, at jeg straks ville skrive den på min ønskeliste, hvis det ikke var fordi, jeg allerede har 10 par sorte læderstøvler, og desuden bruger de køligere årstider på at rejse efter sandalvejret.
Indtil sommervejret ankommer (og det har jeg besluttet mig for, at det må gøre i august!), tager jeg forskud på efteråret i mine støvler, og når det endelig bliver sommer, er de også ret cool til en kjole og bare ben!
---
PS. Husker du at følge med på
Instagram
? Du kan også følge bloggen via
Bloglovin
eller på bloggens
Facebookside
, som jeg opdaterer dagligt! Du kan også skrive en kommentar til dette indlæg – jeg svarer ALTID tilbage! :)