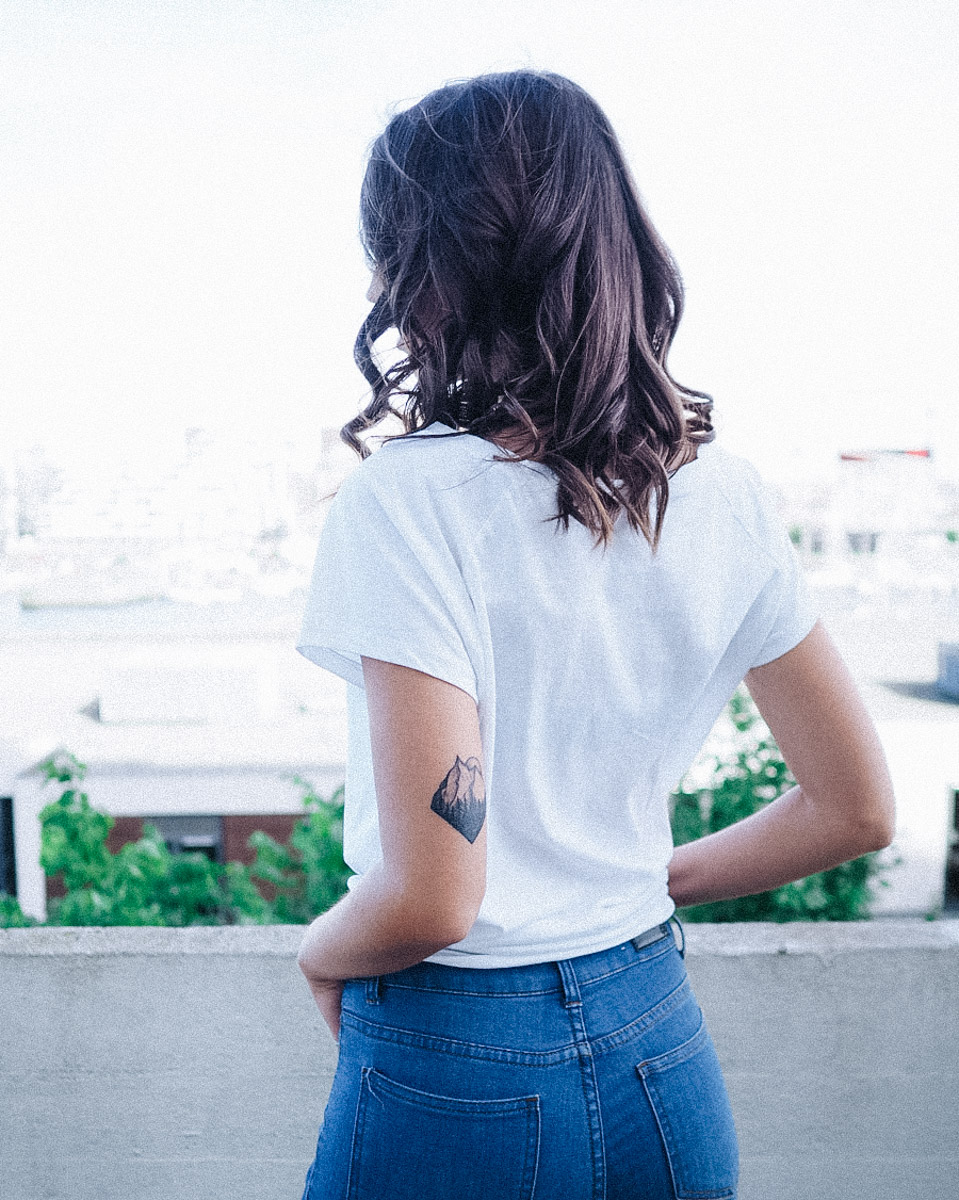 Hej allesammen! Jeg håber, I nyder det danske sommervejr med alt hvad det indebærer af kølige drikke, korte ærmer og hammerkoldt badevand. I denne uge er vi i Århus, hvor vi har min fars lejlighed for os selv, da min far er smuttet af sted på sommerferie, og vi nyder det i fulde drag. Jeg har selvfølgelig allerede været forbi min stamcafé, trasket latinerkvarteret tyndt og hentet en ordentlig favnfuld tøj fra kasserne i vores opbevaringsrum. It's good to be back!
Der er en del af jer, der har spurgt til de nye tatoveringer, jeg fik i Budapest, og jeg vil sådan set gerne vise jer dem, men de sidste par dage har især den største af dem set ret forfærdelig ud, og det er først i dag, huden er begyndt at være sådan nogenlunde normal igen. Der går altid en 3-måneder, før de ser helt rigtige ud – de skal lige om at ligge bag lidt hudlag, så de ikke ser så sorte og klistermærkeagtige ud. Men det kommer, og indtil da får I lige et sneak peek af den ene af dem.
De fleste af mine tatoveringer symboliserer noget, der er meget vigtigt for mig, og denne er ingen undtagelse. Jeg har haft den i tankerne i et års tid, fordi jeg gerne har villet have en tatovering, der symboliserer min morfar, og jeg havde håbet, jeg kunne nå at vise den til ham, men sådan skulle det jo som bekendt ikke gå. Hvis I kunne tænke jer det, går jeg gerne i flere detaljer med både den og de andre, når de lige er helet færdigt, men indtil da, må I tage til takke med dette sneak peek (og hvad der nu slipper igennem på Instagram).
Jeg talte lige efter og kunne konstatere, at jeg nu har ni tatoveringer. For to år siden havde jeg 1 – det er lidt sjovt at tænke på, synes jeg. Jeg fik lige en lille rebel-tattoo som 18-årig og holdt så intet mindre end 7 års pause, før jeg for alvor gik i gang. Jeg glæder mig til at dele den anden af de nye med jer. Den er absolut i den nørdede ende af skalaen, men jeg er super tilfreds med, hvordan den er faldet ud :)
Nu vil jeg koge en håndfuld af de små kartofler, min mormor gav mig med hjem forleden. Min morfar elskede kartofler og havde plantet en god portion af baghaven til med dem, så det er dem, der nu dukker op. Der er langt fra en kartoffelmad til en tatovering, men de gør noget af det samme. Tatoveringen holder bare lidt længere.
---
PS. Husker du at følge med på
Instagram
? Du kan også følge bloggen via
Bloglovin
eller på bloggens
Facebookside
, som jeg opdaterer dagligt! Du kan også skrive en kommentar til dette indlæg – jeg svarer ALTID tilbage! :)