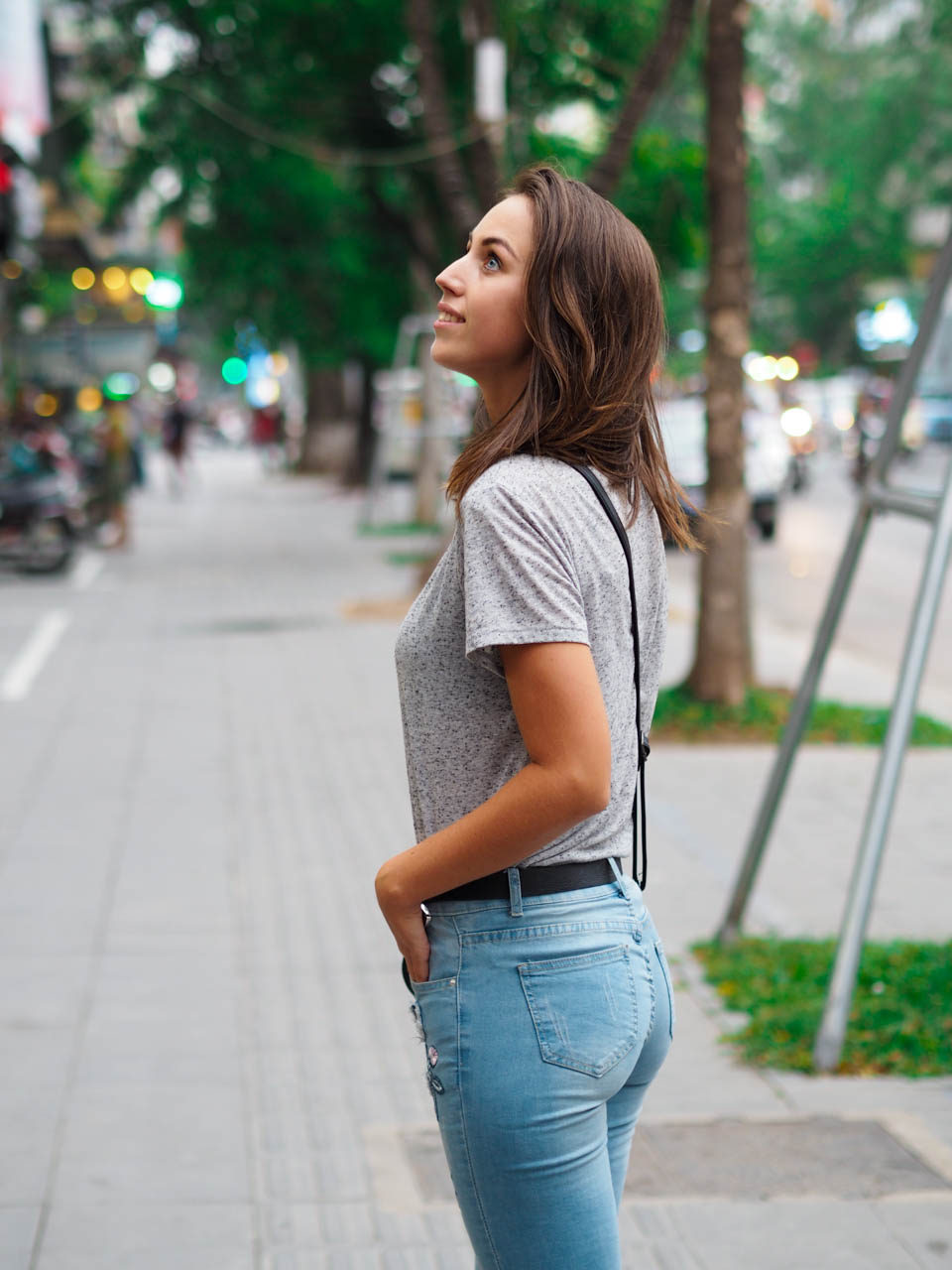 Det var ikke et godt førstehåndsindtryk, vi fik, da damen bag visumdisken hev papirerne ud af vores hænder og endda råbte af os imens. "Don't worry about it!" sagde amerikaneren bag os, "they're rude to everyone". Well, great.
Mens vi ventede på at få vores pas tilbage, kunne vi stå og se, at det var så sandt, som det var sagt. Ikke et smil, ikke ét svar på et spørgsmål. Bare et peg eller et råb. Herre Jemini. Måske skulle de finde sig et arbejde, hvor de ikke skal have med mennesker at gøre. De er måske nok instrueret i ikke at svare på et høfligt "godmorgen", fordi de ikke må involvere sig personligt, men come nu on, altså.
Men vi fik vores visum og en Uber ind til byen. Er der én ting, jeg frygter, er det lufthavnstaxachauffører. Turen ind til Hanoi tager cirka 45 minutter, og i løbet af den tid, var vi lige ved at bede chaufføren om at vende om igen og sætte os på et fly væk fra alt det grå beton, men vi fortsatte, og efter en halv times tid begyndte byen så småt at pible op rundt omkring os.
Rishattene, scooterne, de smalle, høje huse, alléerne, blomsterne, frugterne, farverne – Goodmorning, Vietnam!
Hanoi er fantastisk. Vi har kun været her i halvandet døgn, men jeg føler mig allerede mere hjemme, end jeg har gjort noget sted, siden vi rejste fra Danmark. Den havde jeg slet ikke set komme. Ovenpå vores tur til Saigon vidste jeg godt, at jeg var vild med Vietnam, men jeg følte mig alligevel aldrig rigtig godt tilpas i kaosset, og de evindelige dyt holdt mig i en konstant, trættende spændingstilstand.
De dytter også i Hanoi – endda en hel del, men følelsen er anderledes. Her er mere luft, mere plads til at gå og færre (kørende) scootere på fortovene. Det kan være svært at forklare, hvordan det føles at føle sig hjemme. Svært at forstå hvorfor og hvornår, følelsen dukker op. Men for mig findes den i Hanoi. Ligesom den findes i Budapest og i Århus.
Om bare tre dage får vi besøg af min mor og hendes mand, og jeg er så sindssygt glad for, at det er netop dette sted i verden, vi skal dele med dem. Jeg tror, de vil elske det!
Eneste minus er, at internettet på vores hotel får mig til at længes tilbage til Windows 95 og lyden af den trofaste modemforbindelse. Derfor er vi endnu en gang smuttet forbi "The Coffee House", og tidligere i dag var vi ude for at finde et kontorfællesskab, vi kan arbejde fra.
Jeg håber dæleme ikke, jeg jinxer noget ved at være så begejstret så hurtigt. Men altså. Hjem er der, hvor hjertet er, og der er dæleme hjerte i Hanoi. Jeg glæder mig til at dele meget mere med jer! :)
---
PS. Husker du at følge med på
Instagram
? Du kan også følge bloggen via
Bloglovin
eller på bloggens
Facebookside
, som jeg opdaterer dagligt! Du kan også skrive en kommentar til dette indlæg – jeg svarer ALTID tilbage! :)