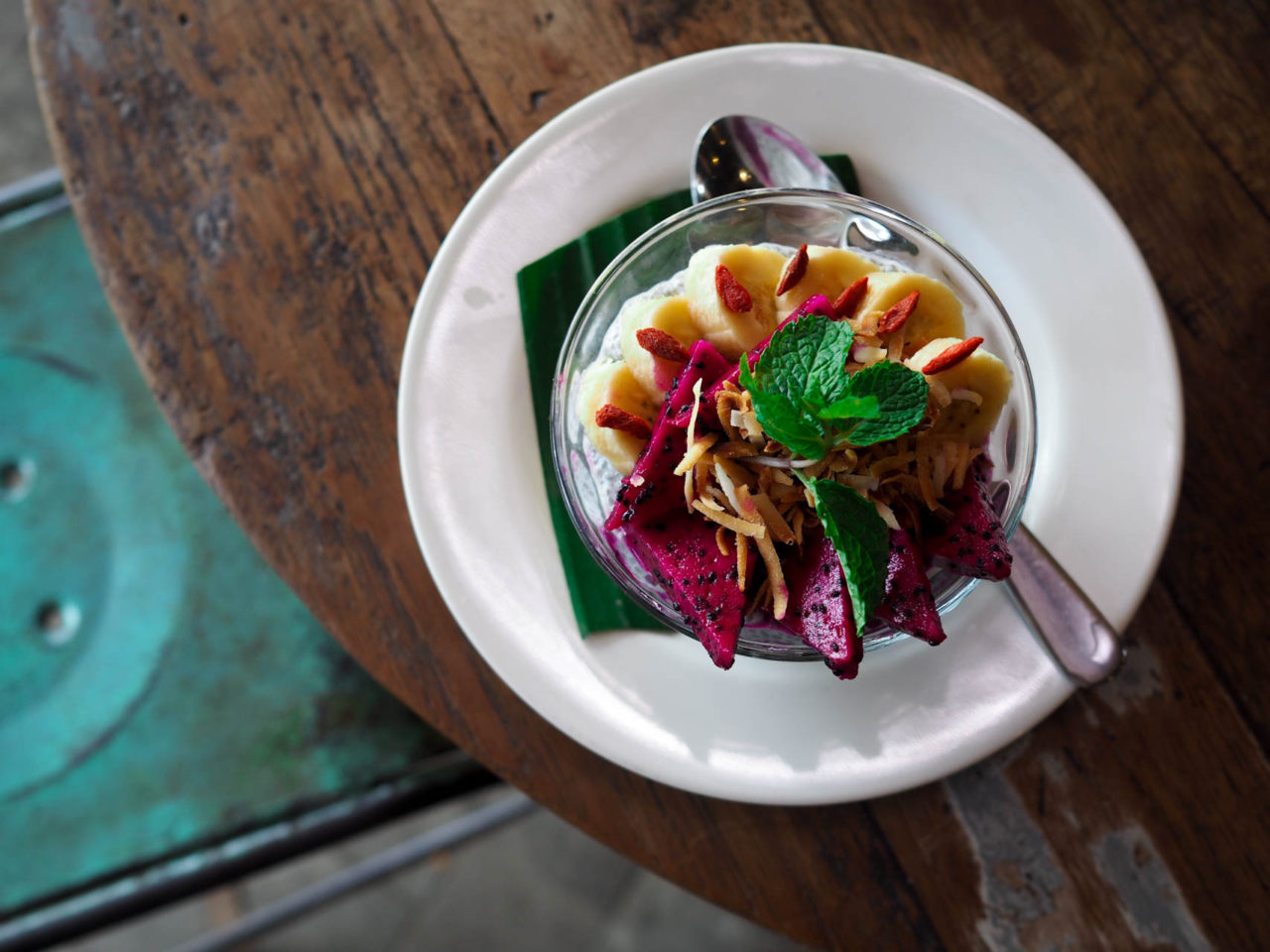 Først og fremmest: Tak til de af jer, der allerede har abonneret på min nye Youtubekanal! Selvom tallet stadig er småt, er det skønt at vide, at I har lyst til at følge med, og så er der altså bare få ting, der er værre end et rundt 0! Så tak for det :) Hvis I ikke ved, hvad jeg snakker om, henviser jeg til indlægget fra i morges – og så håber jeg selvfølgelig at I, hvis I ikke allerede har gjort det, vil hoppe ind og klikke på subscribe-knappen, så I er klar, når de nye videoer begynder at trille ind! Og nu til det, dette indlæg egentlig handler om: Mad!
En af de allerfedeste ting ved at bo i Canggu er, at morgenmaden er begyndt at være dagens bedste måltid – og det er altså ikke fordi, de andre er blevet ringere. Canggu er bare helt fantastisk på morgenmadsfronten, men mange af de gode caféer lukker så til gengæld omkring kl. 15. Desværre, for jeg kunne altså snildt leve af morgenmad, når det kommer i form af smoothie bowls, chiagrød og andre lignende herligheder.
En af vores absolutte favoritter i Canggu er Canteen Café. Vi fandt caféen i begyndelsen af vores rejse, og dengang lå den præcis mellem vores værelse og vores coworking space. Det var nærmest meant to be. Nu har vi efterhånden været forbi flere gange, end jeg kan tælle på to hænder, og det er stadig et af vores absolutte go-to steder for morgenmad. Jeg ELSKER deres chia seed pudding lavet på honning og kokosmælk og tilsat frisk frugt, og så prøver jeg en sjælden gang imellem noget andet – og det er er også godt, men der er bare ikke noget, der stikker chiagrøden.
Priserne på morgenmad starter fra 35.000 rupiah (ca. 17 kr.) for havregrøden, 45.000 rupiah (23 kr.) for chiagrøden og 55.000 rupiah (28 kr.) for deres coconut smoothie bowls. Hvis man er i humør til smoothie bowls, er der dog bedre steder – f.eks. den økologiske, veganske café Spicy Coconut!
Canteen Café har åbent hver dag fra 07-17 og ligger på Batu Bolong-siden af Canggu i nærheden af Echo Beach.
---
PS. Husker du at følge med på
Instagram
? Du kan også følge bloggen via
Bloglovin
eller på bloggens
Facebookside
, som jeg opdaterer dagligt! Du kan også skrive en kommentar til dette indlæg – jeg svarer ALTID tilbage! :)