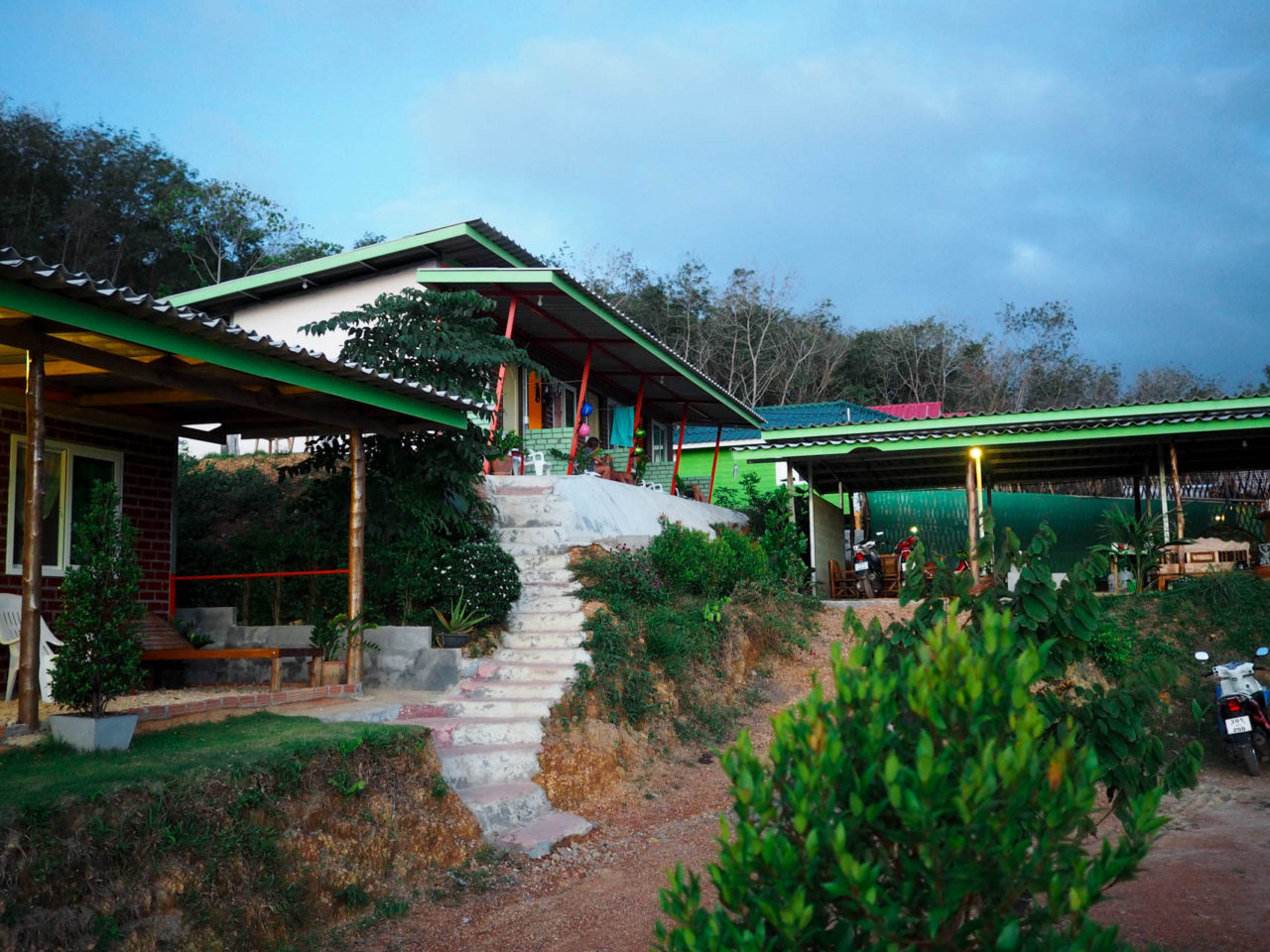 Normalt dedikerer jeg ikke et indlæg til vores "accomodation", men vi har simpelthen haft det så hyggeligt her på Koh Lanta, at jeg gerne vil vise jer, hvor vi har tullet rundt i de sidste 2-3 uger. Nu er overskriften godt nok i datid, men vi har én overnatning mere på Koh Lanta, før vi hopper på en båd og drager videre. Vi kunne snildt have brugt en uge mere, men der er jo ikke andet for, end at vi må tilbage igen på et tidspunkt!
Vi var oprigtigt i tvivl om, hvorvidet det ville være muligt for os at finde et ordentligt sted at bo på Koh Lanta. Jeg trevlede alle bookingsiderne igennem, men de fleste budgetvenlige bungalows og hoteller tilbyder kun internet i fællesområderne, og er der én ting, der for os er en dealbreaker, så er det det!
Dagen før vi ankom, fandt jeg endelig Cat Bungalow, men der var ikke mange anmeldelser online, så selvom de få der var, var meget positive, følte vi os langt fra sikre på, at vi ville kunne lide stedet. Eller at internettet var godt.
Da vi kom, gik der dog omtrent to minutter, før vi kiggede på hinanden og bestemte os for, at det var her, vi gerne ville blive, hvis vi kunne få forhandlet lidt rabat, så vi ikke overskred vores budget. Internettet er godt, udsigten over bjerg, palmer og hav er fantastisk, og vi kan sidde og arbejde ude på vores lille veranda. Det er det perfekte sted til os! De få anmeldelser skyldes, at stedet først åbnede i november, så der fik vi vores forklaring :)
Som navnet Cat Bungalow antyder, er der også et par katte, der bor her. De holder sig for det meste for sig selv, medmindre man siger hej til dem. Vi sagde selvfølgelig hej, for vi er i dén grad i kæledyrsunderskud, så vi nusser til den store guldmedalje, og der gik ikke mange dage, før de fandt ud af, at vores værelse var det perfekte sted til en heldagslur. I modsætning til de fleste andre gæster er vi hjemme en stor del af tiden, fordi vi sidder og arbejder, så de hygger sig med at gå ind og ud, og jeg elsker det!
Bestiller man over Booking.com, koster et værelse 630 baht per nat (126 kr) i højsæsonen, men fordi vi har været her i næsten 3 uger, betaler vi 100 kroner per nat. Hvis man booker direkte hos hotellet og spørger pænt, slipper man for de 15% bookinggebyr. Vi har været så glade for at være her, at vi faktisk påtænkte at tage en ekstra måned på Koh Lanta i februar. Det har vi dog besluttet os for at lade være med, fordi det var komforten og ikke eventyrlysten, der talte. Men altså. Vi skal helt sikkert tilbage til Cat Bungalow (og kattene). Jeg kan ikke lade være med at tænke, at det må være Thailands svar på Villa Villekulla!
---
PS. Husker du at følge med på
Instagram
? Du kan også følge bloggen via
Bloglovin
eller på bloggens
Facebookside
, som jeg opdaterer dagligt! Du kan også skrive en kommentar til dette indlæg – jeg svarer ALTID tilbage! :)