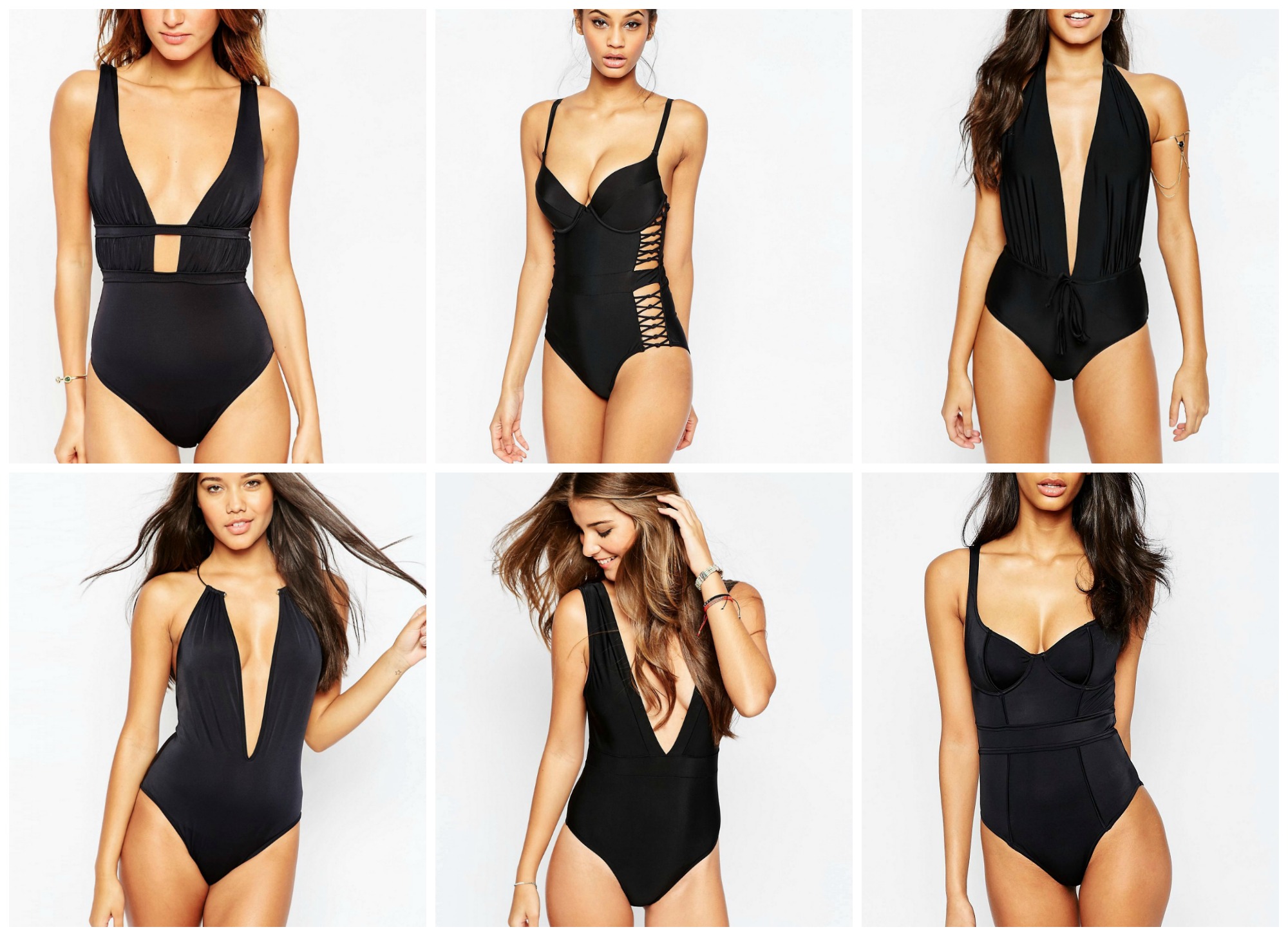 1. ASOS 2. WOLF & WHISTLE 3. MISSGUIDED
4. ASOS 5. WOLF & WHISTLE 6. ASOS
Jeg har ikke ejet en badedragt i de sidste 12 år, men nu overvejer jeg det virkelig. Jeg samler så småt sammen til at tage af sted til Asien i begyndelsen af efteråret, og fordi vi har et mål om at rejse uden indchecket bagage, skal jeg have fundet de helt rigtige ting at tage med. Tøjet skal derfor kunne kombineres på kryds og tværs, så jeg har en plan om kun at medbringe sort, hvidt og gråt. Det er ikke det store problem, for det er generelt de farver, min garderobe består af, men på badetøjsfronten er jeg noget udfordret. Jeg har to bikinier. De er begge minimum 3 år gamle og virkelig grimme, så der er afgjort plads til forbedring. Indtil videre går jagten dog ind på en badedragt, fordi den også kan bruges som top med et par shorts. Pladsoptimering, I ved. Det er min nye shoppeundskyldning.
Mine favoritter er den superelegante version fra ASOS (nummer 6) og den enkle, noget mere nedringede, fra Wolf & Whistle (nummer 5). Jeg kunne faktisk ikke lige dy mig, så jeg klikkede begge hjem. Nu håber jeg bare, de passer! Heldigvis har ASOS endelig fået fri retur, hvis det (selvfølgelig mod forventning) viser sig, jeg ikke er heeelt lige så hot som modellerne.
Lige nu er shopping ekstra sjovt, fordi pundet er så lavt. Bare husk at skifte valutaen til pund oppe i højre hjørne! Så giver man eksempelvis kun ca. 250 for en badedragt, der ellers står til 304 kroner. Og med de 10% rabat fra Unidays begynder det at blive rigtig sjovt.
PS. I dag er der 10% rabat på alting med koden BIGTHANKS10
---
THIS POST CONTAINS AFFILIATE LINKS
---
PS. Husker du at følge med på
Instagram
? Du kan også følge bloggen via
Bloglovin
eller på bloggens
Facebookside
, som jeg opdaterer dagligt! Du kan også skrive en kommentar til dette indlæg – jeg svarer ALTID tilbage! :)