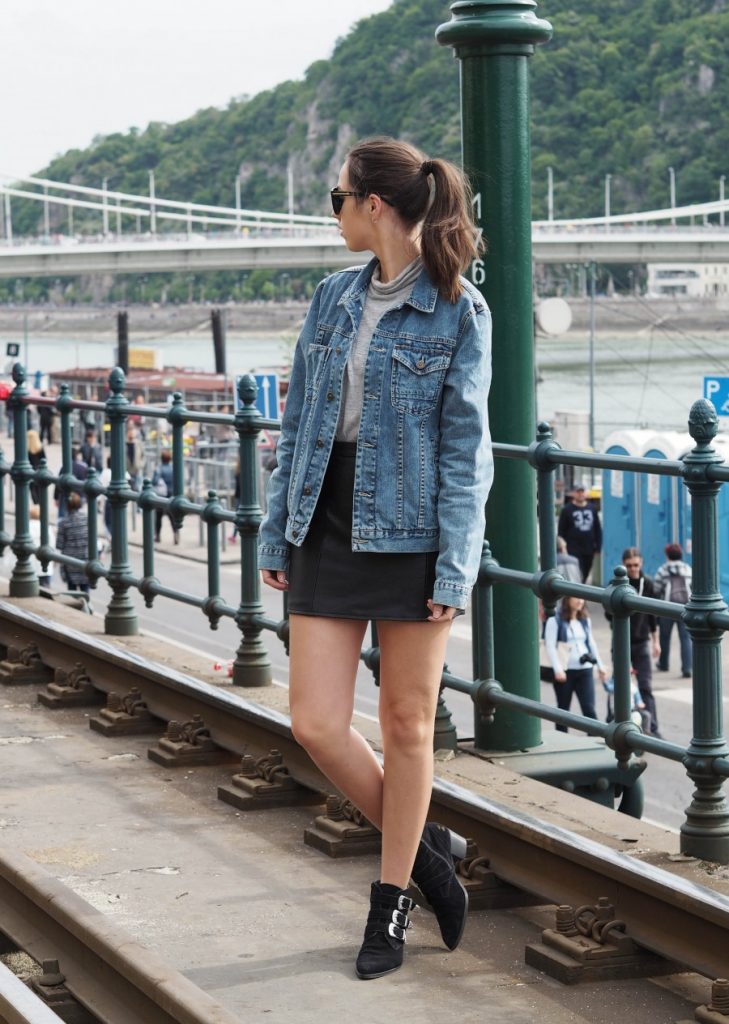 … er der i øjeblikket kun et (misundelsesværdigt) udvalg af forskellige dressinger i mit køleskab. Det er aldrig sjovt, at komme hjem fra en længere ferie.
… er jeg mere end flov over at følge med i Hallmark-serien When Calls the Heart, der mest af alt minder om en Barbara Cartland-roman tilsat dårligt skuespil. Men det gør jeg altså.
… har Netto Toms-chokolade på tilbud. 200 gram for 12 kroner. Jeg købte tre plader, og mit køleskab er stadig tomt.
… har jeg købt en taske med spejle på. Jeg troede, jeg havde efterladt min glæde for spejlbeklædt beklædning i det sidste årtusinde, men jeg kender mig åbenbart ikke så godt, som jeg troede.
… befandt jeg mig på verdens absolutte top, da vi for et par uger siden var inviteret til fest på en privat tagterrasse med udsigt over Donau.
… var jeg lige ved at omkomme af glæde, da det svenske selskab begyndte at synge Helan Går. Jeg troede, det var en fordom, men det var i den grad virkelighed, og det var dæleme hyggeligt.
… havde både min mor, min moster og min morfar fødselsdag i går! HVERT år forundres jeg over verdens vildeste tilfælde. Og HVERT år bliver jeg overrasket over, hvor mange gaver, jeg skal købe.
… duftede Danmark skønt, da vi i går steg ud af flyet.
… hjælper det absolut ikke på min flyskræk, at jeg kom hjem til nyheden om endnu et flystyrt. Jeg kan slet ikke holde til at tænke på det.
… er Friends ikke tilgængeligt på Netflix i Ungarn. Håbløst.
… bliver mit speciale ikke godt. Som i overhovedet ikke. Og jeg er virkelig ligeglad. Altså, ikke inderst inde, hvor min samvittighed æder mig op, men jeg prøver.
… er jeg begyndt at læse Game of Thrones, og baseret på de første 185 sider kan jeg konkludere, at bøgerne er endnu bedre end serien. Aren't they always.
… havde jeg shorts på én dag i Budapest, og det var for koldt. Så det var superfedt. Hvorfor er det, de lokale altid kalder det dårlige vejr for atypisk? Kan vi ikke vedtage, det er mere end typisk, at det er 25 grader varmt dagen før, vi ankommer, temmelig dårligt vejr i en måned og godt vejr igen dagen efter, vi smutter?
… er det langt sjovere at pakke, end det er at pakke ud.
… er det dejligt at tage af sted fra nøgne træer og komme hjem til lysegrønne blade! Jeg kigger så meget op, at det kun er et spørgsmål om tid, før jeg går ind i en lygtepæl.
---
PS. Husker du at følge med på
Instagram
? Du kan også følge bloggen via
Bloglovin
eller på bloggens
Facebookside
, som jeg opdaterer dagligt! Du kan også skrive en kommentar til dette indlæg – jeg svarer ALTID tilbage! :)