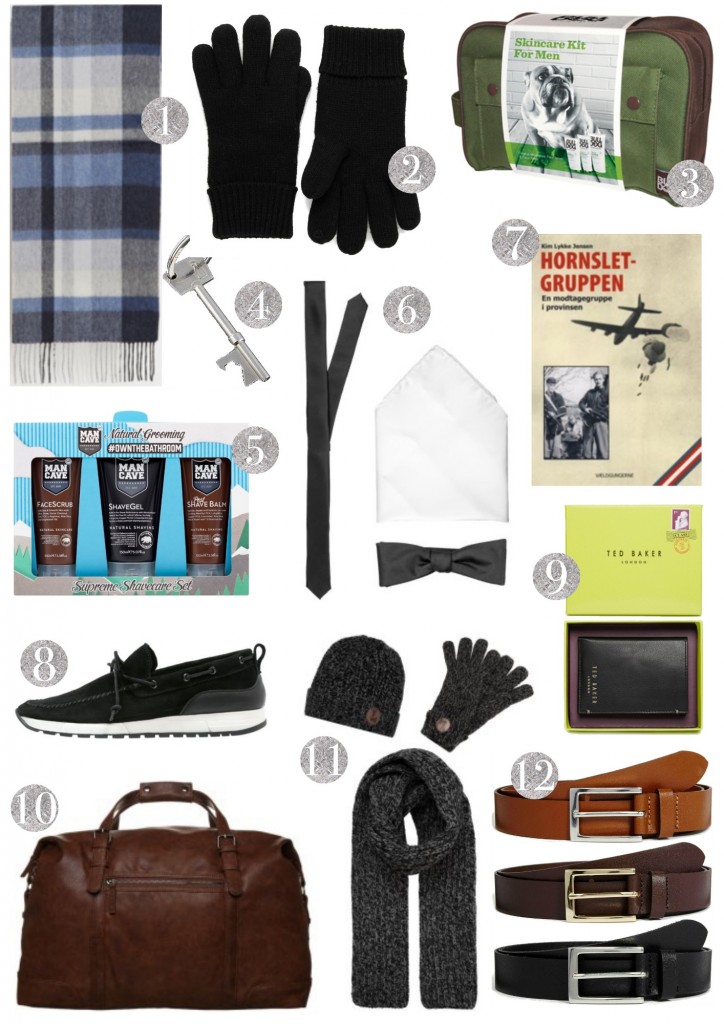 1. ASOS Lambswool Scarf 2. Esprit Lined Gloves 3. Bulldog Skincare Kit For Men 4. Key Shaped Bottle Opener Keyring 5. ManCave Supreme Shavecare Set 6. Selected Homme Benito Tie Set 7. Hornsletgruppen af Kim Lykke Jensen 8. Kiomi Loafers 9. Ted Baker Zacks Bifold Leather Wallet 10. New Look Travel Bag 11. Your Turn Set 12. ASOS Smart Leather Belt 3 Pack
Ligeså hyggelig december kan være, ligeså stressende er det at stå i alenlange køer få dage før jul med hold i nakken og favnen fuld af poser. Derfor har jeg i år planlagt en udførlig julegaveguide med foreslag (og links!) til julegaver til hele familien plus det løse. Jeg har fundet lidt til ethvert budget, så der gerne skulle være noget for alle. Bedstefargaver er hyggelige, men min morfar ønsker sig altid bare sokker og rødvin, så det kan godt blive en smule kedeligt. Min mormor nedlagde endda sidste år veto mod flere sokker (pis!), så jeg har været i tænkeboks og fundet en række alternativer. Bogen er en, både min mormor og morfar har slugt råt – og ved I hvad? Det endte jeg faktisk også med at gøre. Anden Verdenskrig er altid et hit hos bedsteforældre, og Hornsletgruppen er en af de mindre kendte modtagegrupper, så måske du kunne glæde din bedstefar med et stykke spændende historie, han ikke kender i forvejen?
Byd endelig ind med gode idéer til bedstefargaver, så kommentarfeltet også kan inspirere :)
Tidligere Christmas Gift Guides:
December can be just as stressful as it is joyful if you're not on top of your gift game and end up running from store to store covered in bags and snow. So, I've decided to create a huge Christmas Gift Guide (with links!) to help you get through December in one piece. There's something for every budget, and I hope you can find some inspiration. I would really love to get my grandpa something else besides socks and red wine (same wishes every year) so I've found a lot of great alternatives. 
If you have any ideas for grandfather gifts, do let me know in the comments :)
---
THIS POST CONTAINS AFFILIATE LINKS
---
PS. Husker du at følge med på
Instagram
? Du kan også følge bloggen via
Bloglovin
eller på bloggens
Facebookside
, som jeg opdaterer dagligt! Du kan også skrive en kommentar til dette indlæg – jeg svarer ALTID tilbage! :)