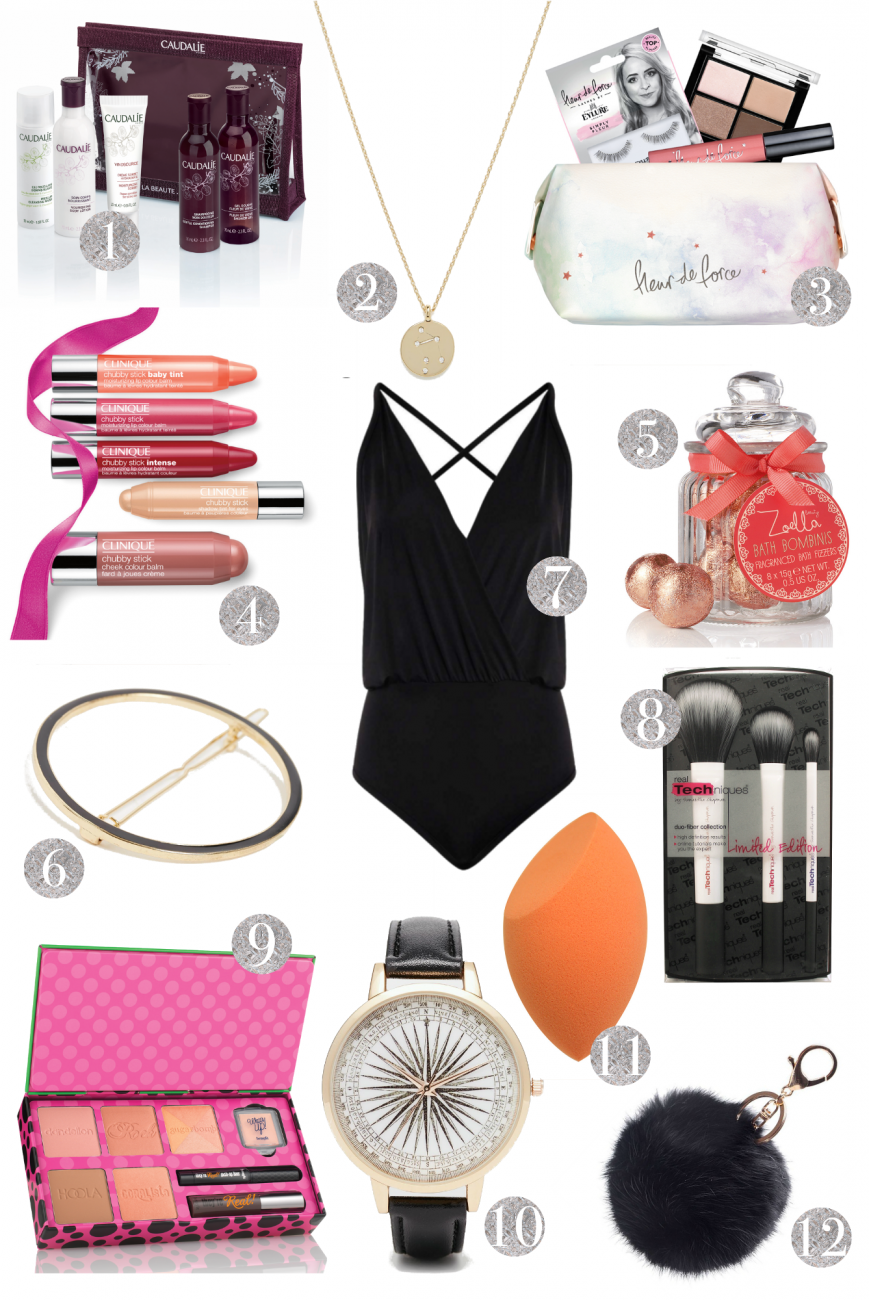 1. Caudalie Christmas Essentials Gift Set 2. Orelia Constellation Necklace 3. Fleur deForce Rose Beauty Bundle 4. Clinique Whole Lotta Chubby Gift Set 5. Zoella Beauty Bath Bombinis Fragranced Bath Fizzers 6. Pieces Oleda Hair Clip 7. Darcy Wrap Over Cross Back Slinky Body 8. Real Techniques Duo Fiber Collection Limited Edition 9. Benefit Real Cheeky Party Kit (or here or here)10. Asos Compass Print Watch 11. Real Techniques Miracle Complexion Sponge 12. Faux Fur Pom Keychain
Ligeså hyggelig december kan være, ligeså stressende er det at stå i alenlange køer få dage før jul med hold i nakken og favnen fuld af poser. Derfor har jeg i år planlagt en udførlig julegaveguide med foreslag (og links!) til julegaver til hele familien plus det løse. Jeg har fundet lidt til ethvert budget, så der gerne skulle være noget for alle. For mig er venindegaver noget af det hyggeligste at købe, fordi jeg i bund og grund bare kigger efter det, jeg allerhelst selv ville have. I dag har jeg fundet nogle (synes jeg selv) supergode deals på især skønhedsfronten, hvor samlingen af Benefitblushes ligger helt i toppen – hele sættet koster omtrent det samme, som én blush normalt koster. Jeg købte et lignende sæt sidste år, hvor de blev udsolgt med det samme, og jeg har været så glad for det! Eneste minus er, at det måske kan være lidt svært at få sendt over kanalen, men jeg har prøvet at finde lidt ekstra links, så det forhåbentlig kan lade sig gøre.
Byd endelig ind med gode idéer til veninde- eller søstergaver, så kommentarfeltet også kan inspirere :)
December can be just as stressful as it is joyful if you're not on top of your gift game and end up running from store to store covered in bags and snow. So, I've decided to create a huge Christmas Gift Guide (with links!) to help you get through December in one piece. There's something for every budget, and I hope you can find some inspiration. I love buying gifts for my friends – I just buy whatever I would want to find under the tree. Today I've found some great deals in the beauty department (those Benefit blushes!) and how great would that black body be for Christmas parties?
If you have any ideas for girlfriend/sister gifts, do let me know in the comments :)
---
THIS POST CONTAINS AFFILIATE LINKS
---
PS. Husker du at følge med på
Instagram
? Du kan også følge bloggen via
Bloglovin
eller på bloggens
Facebookside
, som jeg opdaterer dagligt! Du kan også skrive en kommentar til dette indlæg – jeg svarer ALTID tilbage! :)