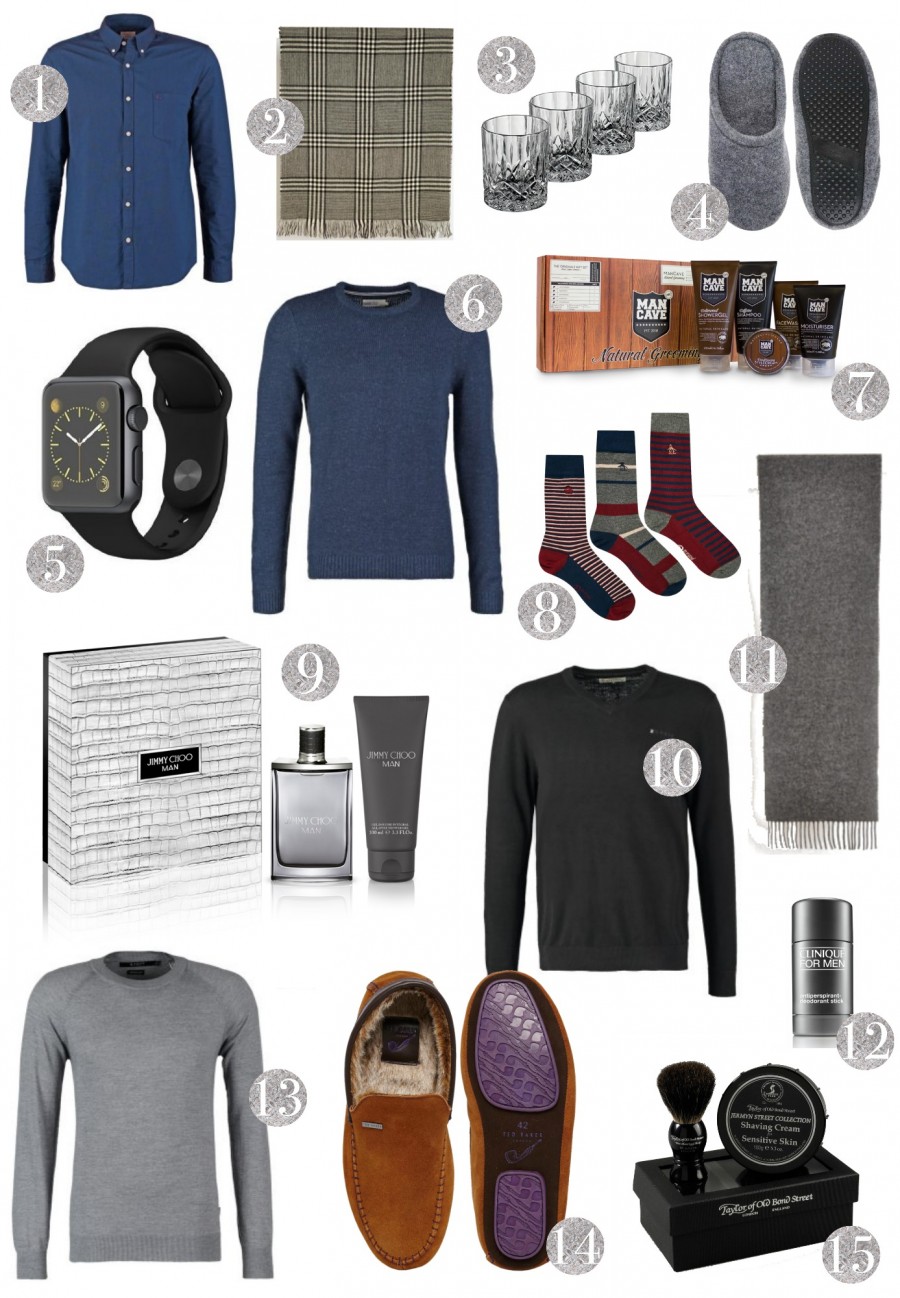 1. Selected Homme Shirt 2. Jack & Jones Scarf in Check 3. Aida Harvey Glasses 4. Asos Slip On Slippers 5. Apple Watch 6. Pier One Pullover 7. ManCave Grooming Originals Gift Set 8. Original Penguin 3 pack Socks in Gift Box 9. Jimmy Choo Man Eau de Toilette 10. Esprit Pullover 11. Glen Lossie Lambswool Scarf 12. Clinique for Men Antiperspirant Deodorant Stick 13. Tiger of Sweden Terry Pullover 14. Ted Baker Maddoxx Slippers 15. Taylor of Old Bond Street Jermyn Street Gift Set
Ligeså hyggelig december kan være, ligeså stressende er det at stå i alenlange køer få dage før jul med hold i nakken og favnen fuld af poser. Derfor har jeg i år planlagt en udførlig julegaveguide med foreslag (og links!) til julegaver til hele familien plus det løse. Jeg har fundet lidt til ethvert budget, så der gerne skulle være noget for alle. For mig er far-gaver noget af det sværeste at købe, for min far er typen, der selv køber det, han har brug for, når han har brug for det. Derfor er tricket at finde noget, han ikke vidste, han havde brug for. Snedigt, ikke?
Byd endelig ind med gode idéer til far-gaver, så kommentarfeltet også kan inspirere :)
Christmas Gift Guides:
December can be just as stressful as it is joyful if you're not on top of your gift game and end up running from store to store covered in bags and snow. So, I've decided to create a huge Christmas Gift Guide (with links!) to help you get through December in one piece. There's something for every budget, and I hope you can find some inspiration. For me, dad gifts are one of the hardest categories seeing as my dad is the type of person who just goes out an buys what he needs when he needs it. Therefore, the trick is to find something he doesn't know he needs. Clever, right?
If you have any ideas for dad gifts, do let me know in the comments :)
---
THIS POST CONTAINS AFFILIATE LINKS
---
PS. Husker du at følge med på
Instagram
? Du kan også følge bloggen via
Bloglovin
eller på bloggens
Facebookside
, som jeg opdaterer dagligt! Du kan også skrive en kommentar til dette indlæg – jeg svarer ALTID tilbage! :)