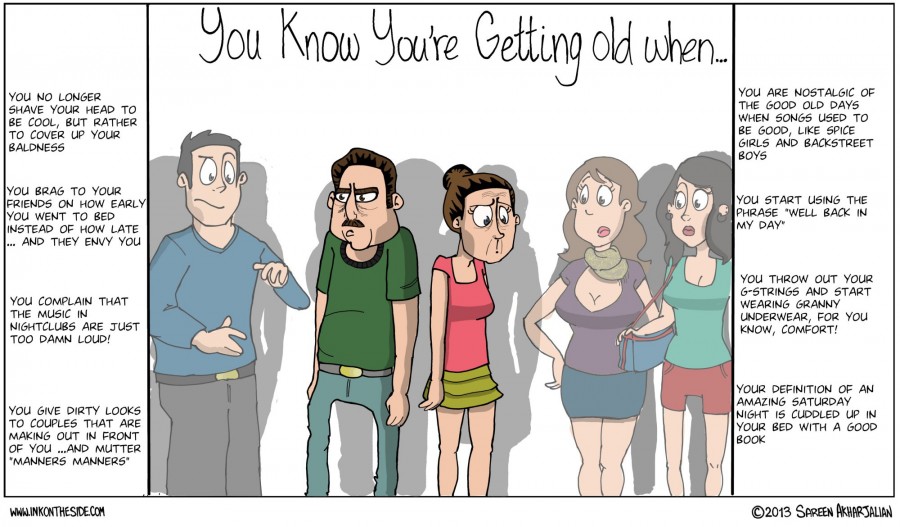 Er jeg millimeter fra en kvartlivskrise. HVEM ER JEG? HVAD HAR JEG NÅET?
Panikker jeg lidt over min 25-års fødselsdag. Den 25. På søndag. SNART.
Lyder 25 tæskevoksent.
Overvejer jeg, om jeg skulle have inviteret til jubilæum i stedet for fødselsdag? Ville gaverne så have været større? Eller ville det bare have kostet det mere i vin?
Kunne jeg virkelig godt have brug for at gense Bølle-Bob og genhøre frasen "Ih altså Calle, hvor er du tæskemandig!" Det ville gøre mit liv lidt bedre ret hurtigt.
Er jeg begyndt at få mavemuskler. Som man kan se. Jeg satser stærkt på at blive flottere med alderen.
Sagde min mors barndomsveninde forleden, da hun så et billede af mig, at det var nøjagtigt som at se min mor, da hun var ung. Det skræmmende er, at hun har ret. Nu er det ikke fordi, jeg er bange for at komme til at ligne min mor, men det slog mig da lige, hvor jeg er på vej hen.
Kan jeg krydse 5 ud af 8 af punkterne på billedet af. Hvor mange kan I?
Har jeg inviteret mine venner på mad og brætspil i aften. Da jeg fyldte 20, boede jeg i en lejlighed på 24 kvadratmeter og havde inviteret 15 venner. Der kom 25, og vi havde det vildt. Året efter gjorde jeg nøjagtigt det samme. I aften spiller jeg Cranium. Og nyder det. Det er min måde at omfavne alderdommen på.
Spekulerer jeg på, om julestjerner er programmeret til automatisk at forlade denne jord i løbet af januar? Den lille utaknemmelige djævel. Nu havde jeg jo lige købt den i hvid, så den kunne holde helt til påske.
Modtager jeg London-tips med kyshånd!
Vil jeg virkelig nødigt begraves i en laminatkiste. Det er bare lige noget, jeg har tænkt over, efter jeg så en scene fra Friends, jeg aldrig havde set før. Det passer perfekt ind i min kvartlivskrise.
Er jeg begyndt at se Friends forfra for 478. gang – men denne gang i den amerikanske DVD-version hvor alle afsnit er næsten 3-4 minutter længere, fordi alt det fraklippede er med. L.O.V.E. I.T.
Har jeg en nagende fornemmelse af, at jeg mangler at gøre noget, man absolut ikke kan gøre, når man først er fyldt 25. Hvad er det? Og kan jeg stadig nå det?
---
PS. Husker du at følge med på
Instagram
? Du kan også følge bloggen via
Bloglovin
eller på bloggens
Facebookside
, som jeg opdaterer dagligt! Du kan også skrive en kommentar til dette indlæg – jeg svarer ALTID tilbage! :)